Comic-Con 2012: From Excitement to Disappointment

Hype is the name of the game at Comic-Con. For fans, it's an early taste of what they'll see in theaters in a few months, a year, or even more. For studios, it's a hopes of planting a seed that will keep people talking until a movie's release. Put a trailer online, someone convinces themselves whether they're "in" or not based on their crappy computer screen. Put them in a high-end projection room with 10,000 screaming fans and, suddenly, the latest trailer for such-and-such sci-fi movie is on par with the Super Bowl half time show. It's fun to be excited, and at Comic-Con, everyone wins.
Does the tidal wave of buzz translate to business? Not always. Studios spend big bucks to showcase their upcoming slates, but occasionally, the stunts don't pay off. Here are a few high profile films that left Hall H the talk of the town, only to underperform by the time they arrived in multiplexes. What went wrong?
Sky Captain and the World of Tomorrow

Production Budget: $70 million
Domestic Gross: $37.8 million
Bold statements broadcast from Hall H are not uncommon. Their taken with a grain of salt, but that kind of praise is exactly what fans, and the studios backing the movies, want to hear. When premiered footage at Comic-Con in 2004, it was met with passion normally reserved for Best Picture contenders. As a writer of Joblo elegantly put it: "[Director Kerry] Conran has created movie magic here; Sky Captain and the World of Tomorrow is what we go to the movies for." Conran's unique sci-fi adventure took its cues from pulp magazines and films from the early days of the 20th century — an approach that hit all the right chords with genre buffs. But the throwback, that turned out to be more of an exercise in low budget special effects than a thrilling, Indiana Jones-style romp, wasn't easily swallowed by the masses.

Production Budget: $232 million
Domestic Gross: $200.1 million
An IGN writer sums up the reaction to the return of the Son of Krypton quite perfectly. "You will believe a man can fly…again. These words echoed in my head after attending the Superman Returns panel at the San Diego Comic-Con Saturday morning." Absence makes the heart grow fonder and twenty years had Superman fans young and old absolutely rabid for the debut of modern Supes courtesy of director Bryan Singer (X-Men). A nine-figure budget does wonders for a larger-than-life character, and all of Superman's flying heroics stunned the Hall H audience in 2005. The footage was beautiful — maybe too beautiful. Singer's version of Superman aimed for cinematic poetry rather than full-blown action mayhem, a take that might be up comic book purists, but not the audiences flooding multiplexes. Even with a $200 million take, Superman Returns flew under expectations (and really, profitable box office marks). Thankfully, that's not stopping Warner Bros. from attempting to recapture the magic and unleashing it at Comic-Con: the rebooted Man of Steel will premiere its first look on Saturday, July 14.

Production Budget: $130 million
Domestic Gross: $107.5 million
"If you thought the trailer was breathtaking, this was even MORE incredible than that," declared a writer from the blockbuster-friendly blog FirstShowing.net. Time named Watchmen one of the best books of all time, so it's understandable why a mere glimpse at more of the live-action translation of the 1987 graphic novel would have fans frothing at the mouth. This was the comic movie, and director Zack Snyder was sticking to the source material with precision. While Watchmen sent thousands of appreciative readers into a tizzy over the panels coming to life, Snyder's adaptation almost demanded a familiarity with the text. If you weren't a fan, Watchmen was too much to digest — critical acclaim or not. Think about it: would a Catcher in the Rye movie be a mega-hit blockbuster? Everyone has read it, but the demand isn't built in.

Production Budget: $200 million
Domestic Gross: $125.3 million
McG's fourth Terminator had all the makings of a Comic-Con friendly flick. A radical franchise shift that skewed to the ever-popular "dark, gritty" approach; a fanboy dream of a screenwriter, The Dark Knight's Jonah Nolan; a rising action star (Sam Worthington, Avatar) and a heralded keystone (Christian Bale); and most importantly, some kick-ass action footage. After the Charlie's Angels director screened his saturation-less robot mayhem for Hall H audiences, a Screenrant writer declared "I don't think we need to worry about this one folks, it looks like it's in good hands!" Everyone was on the same page: finally, a Terminator movie that pushes the envelope of its main conceit. All out war! But snippets proved more exciting than the final product, which underwhelmed summer audiences with its bleak palate. Maybe the only people who really care about Terminator mythology are Con-goers?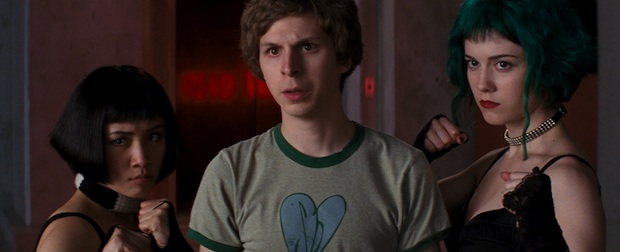 Production Budget: $85 million
Domestic Gross: $31.6 million
For comic buffs or anyone that caught the first trailers to Edgar Wright's video game-inspired love story, Scott Pilgrim was already a highly-anticipated summer blockbuster. But Universal went all out to make Comic-Con their big publicity push for the film, bringing the entire cast to Hall H, showing off footage and holding a screening of the film for a lucky handful of fans. Positive reactions continued to grow as free screenings popped up between SDCC and the movie's August 2010 debut. But in comparison to the fervor of its Comic-Con premiere, Scott Pilgrim vs. the World came and went through theaters with little momentum. Many speculated that the movie was the perfect Comic-Con film, playing directly to that audience's sensibilities, and that by the time it hit theaters, everyone who had wanted to see it had.

Production Budget: $200 million
Domestic Gross: $172.1 million
Disney's Tron Legacy holds a unique record: the film appeared for Hall H presentations three times before being released. A short visual effects test played in 2008 to thunderous applause. The reaction spurred a greenlight for Disney and director Joseph Kosinski. In 2009, the footage returned updated and in glorious 3D, along with a fully constructed "Flynn's Arcade" built out in downtown San Diego. Finally in 2010, a full panel with footage and stars arrived to SDCC. The energy of the audience was consistent all three years — but in the end, the movie never captured the masses the same way it did with eager Con attendees. Overexposure is a possibility, but the world of Tron may have been better suited for effects-driven teases rather than a two hour narrative.
An enthusiastic reception at Comic-Con didn't translate to box office success for the above films, but that doesn't change the fact that many of the fans who did catch these movies in theaters were satisfied. The cries of fandom are tricky; they can pique the interests of general moviegoers when privy to the right material, but they can also be an echo chamber for a niche audience.
On the positive side, San Diego Comic-Con have played host to a number of hits that started their campaign for audience eyes in the excited chaos of Hall H. 300, Iron Man, Avatar, Sherlock Holmes, Pirates of the Caribbean: On Stranger Tides, The Expendables, The Resident Evil franchise — all planted seeds at just the right moment, reaping the benefits of an early campaign when it finally came time for their theatrical run. Timing, mass appeal and showing off just the right amount/type of footage is all key.
Box office and budget statistics provided by Hollywood.com Box Office Analyst Paul Dergarabedian
Follow Matt Patches on Twitter @misterpatches
More:
Comic-Con 2012: 20 Burning Movie Questions for SDCC
Comic-Con 2012: Burning TV Questions for SDCC
'Walking Dead' Comic-Con Poster Elects New Characters
[Photo Credit: Paramount Pictures, Warner Bros. Pictures, Universal Pictures, Walt Disney Pictures]