Comic-Con 2012: Godzilla Returns! First Look at the New Creature Design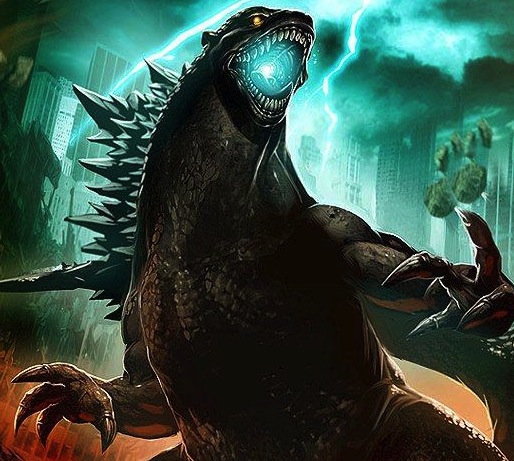 Following their massive Pacific Rim debut, a new monsters vs. robots adventure, the WB panel revealed something not on the schedule. A short bit of footage played without introduction…
The short trailer begins with a cool Japanese logo treatment of the WB/Legendary logo. Fade up on a destroyed city. People dead everywhere. A derailed train. A skycraper completely broken through. We see a mountain with lava trickling down, the camera moving around it to reveal a clawed beast.
Godzilla. Cue the signature growl.
The words of J. Robert Oppenheimer ring over the footage. "Now I have become death. The destroyer of worlds." Traveling through the wreckage, we see a massive, shadowy beast. Flying up its scaly back, we see the iconic Godzilla face. Sorry Roland Emmerich, this is the classic character enhanced with steroids and a ton of detail. Terrifying!
Director Gareth Evans was on hand to profess his love for Godzilla and tell fans that his take would be the serious version he's wanted to see since he was a kid. With an aesthetic similar to Evans' character-driven sci-fi flick Monsters, he might be the perfect guy to bring it alive. Sold.
Follow Matt Patches on Twitter @misterpatches
More:
Comic-Con 2012: The Web's Most Anticipated SDCC Panels
Charlie Hunnam To Star In 'Pacific Rim'
Visit Hollywood.com's Home for Everything Comic-Con!
[Photo Credit: Warner Bros. Pictures]