Comic-Con 2012: Stephenie Meyer's 'The Host' Footage — Nicholas Sparks with Aliens?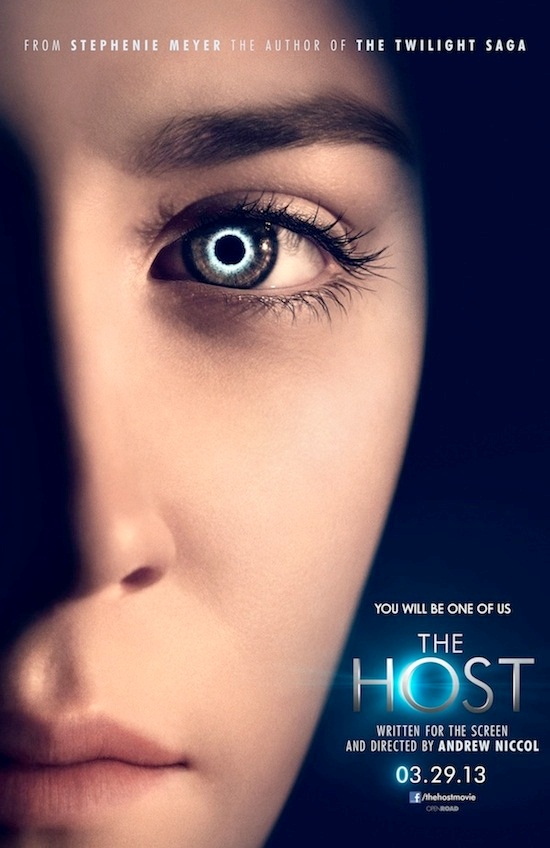 At the tail end of Comic-Con's Twilight panel, author Stephenie Meyer revealed a special surprise: the first footage from the upcoming The Host adaptation. The footage was sparse and quick, but it did give clues to the feel of the movie. This isn't Twilight, taking on a look similar to director Andrew Niccol's previous film Gattaca and plucking from all sorts of sci-fi tropes. Here's what we saw — people who have read the book, chime in!
The clips were presented without much context. (The movie only finished shooting a few weeks ago and the footage was rough.) We first see Saoirse Ronan running away from a pursuer, eventually jumping out of a window. She slams into the ground. When she opens her eyes, it's apparent that she's possessed. She's the host!
We cut to Diane Kruger, who explains to Ronan's character dubbed "Wanderer" that they need her to access the memories of her human counterpart in order to track down the Earth resistance (it's safe to assume Kruger is a extraterrestrial-possessed lady aiding the alien invasion). Wanderer begins to tell the tale of Melanie, her teenage girl host. We see Melanie growing up Louisiana (where dogs pull you on skateboards!), playing with her little brother in a lake. The Seekers, a.k.a. the alien invaders, arrive to her home, but her brother and her hide, leaving her father to take his life to save them.
The footage cuts ahead in time (still no real context — so those with book knowledge, tell us what's going on!). Melanie is now dancing with a man, eventually pulling a Notebook and making out with him in the rain. Nicholas Sparks with aliens? It looks that way until we suddenly flash forward again to an underground cave, where the young man, a gang of his buddies and actor William Hurt have taken her hostage. They argue over whether they should keep her in the cave or not (by this time, she's been taken over by the aliens).
Cut forward again. We're dropped straight into a car chase between the Seekers (who drive fancy BMWs) and the Resistance (who drive dingy jeeps). This is high adrenaline for a Meyer adaptation, but it's slick under the eye of director Andrew Niccols. The footage doesn't hint at why the men from the cave are on the run or being attacked, but when you're in the middle of an alien invasion, lengthy explanation probably isn't important. Are the aliens hunting Melanie?
Follow Matt Patches on Twitter @misterpatches
More:
'Twilight' Creator's 'The Host' Trailer: Vampires Out, Glowing-Eye Aliens In
'Twilight: Breaking Dawn – Part 2' Trailer Breaks Records, But It's No 'Dark Knight Rises'
'The Host': Stephanie Meyer Puts an Eclipse in Saoirse Ronan's Eye
[Photo Credit: Open Road Films]