Comic-Con 2012: 'Wreck-It Ralph' Footage Packs Non-Stop Video Game Jokes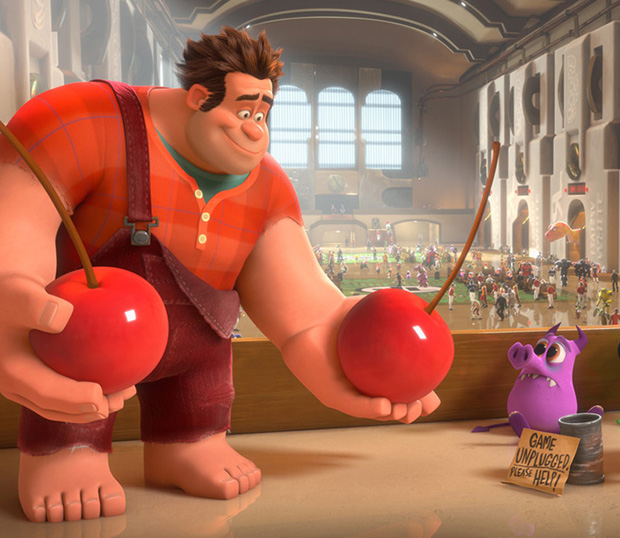 After the debut of the first footage from Wreck-It Ralph at San Diego Comic-Con, the possibility of a great video game movie are finally upon us.If you're like me and were born any time after the invention of Pong, you probably have a bit of gaming experience in your history. We've all played a few rounds of Ms. Pac-Man at the local pizza place, spent hours side-scrolling our way to victory as Mario, dance dance revolutionized the world, and perhaps even dabbled in the latest and greatest of modern gaming technology (heck, even my grandma has Wii bowled). Amazingly, with their wide spread appeal and solid foundation in pop culture, video games haven't had a successful transition into other mediums. Sorry diehard fans of Reboot, Angelina Jolie's Tomb Raider or the Halo novels — when it comes to gaming-themed TV and movies, there are few options worth watching.
That might change with Disney's latest animated film, that hopes to simultaneously capitalize on our nostalgia for classic video games while also telling a story that encapsulates everything we love about the experience of sitting down and plugging in. Director Rich Moore (The Simpsons) and cast members John C. Reilly, Sarah Silverman, and Jack McBrayer were on hand at SDCC's Hall H to show off the first glimpse of Wreck-It Ralph, a comedy that takes the Roger Rabbit approach to cameos and adapts it to video games. The film follows Ralph, the bad guy of a adventure game akin to Donkey Kong (where Ralph is the baddie continually clobbered by the good guy, Fix-It Felix, played by McBrayer).
Wreck-It Raph is all about finding one's purpose in the world — even if you're a video game bad guy. The classic arc is set against a vibrant world of familiar, CG animated landscapes, inspired by the gaming industry's most famous entries. Here's a rundown of what we saw at the panel, ten minutes of footage:
The first scene showcased sets up the main problem for our lowly bad guy, Wreck-it Ralph. Working in the game Fix-It Felix Jr. (a distant cousin to Donkey Kong), Ralph finds his destructive work constantly undone by Felix and his magic hammer. Every night, he's forced to go home to his landfill while Felix spends the night in the newly constructed apartment with the people's he's saved. He's got it made. Ralph tells his tale in a video game bad guy support group (a scene hinted at in the trailers), and by the end of the session, he's nowhere closer to coming to terms with his identity crisis. He wants to be a good guy, but he was born a bad guy. Not even Mortal Kombat's Kano can help him!
The next clip follows Ralph as he leaves the support group (located in that middle box where the ghosts live in Pac-Man) and heads to Game Central Station, the big hub for all the characters. There's a great spontaneity to the voice work and script — no surprise considering Ralph is voiced by Apatow-regular Reilly. When Ralph arrives to the station, he's scanned by a TSA-esque hologram and the dialogue as an impressive flow. If it weren't animated and had Will Ferrell as the guard, it would basically be Step Brothers! For the G-rated crowd, of course. But it does have a twisted sense of humor too: when Ralph walks the concourse, he bumps into a homeless QBert (before you sigh, when was the last time you played?!). It's hilarious, but touching, as Ralph offers up a Cherry from the Pac-Man world to feed the down-on-his luck platform jumper.
The rest of the clips chart a course for the film's bigger adventure: a road trip through various game landscapes. First up, Ralph heads to the first person shooter, Hero's Duty. The scene shown during the presentation jumped past Ralph's time in the game, when Fix-It Felix Jr. (voiced by Jack McBrayer) enters the world in search of his villain. He runs into Sergeant Calhoun (Jane Lynch) who nearly fries him with laser blasts. Interesting world detail: if a video game character heads to another world and is killed, they can't regenerate…
The final scene is between Ralph and Vanellope von Schweetz (Sarah Silverman), the black sheep of the candy-themed racing game Sugar Rush. Vanellope has lost a medal that Ralph has won in Hero's Duty and he wants it back…or smashing might be in her future. But let's get real, this is Sarah Silverman steering the carts. The argument quickly devolves into a riff on duty and doodie. If it sounds simple and silly, but in the hands of skilled comedians, it's wicked funny.
Wreck-It Ralph's emotional arc feels especially well-handled and shouldn't be overshadowed by the video game hook. That said, the video game hook is pretty damn hilarious. The movie nails it, everything from cameos (Sonic!) to gaming in-jokes to little things like character movements. Recreating the exact motion of the floating Pac-Man ghost is a great gag in itself. That's the kind of detail on display in in this movie.
Wreck-It Ralph hits theaters this November. Start reading through every video game-related Wikipedia article now so you get all the jokes!
Follow Matt Patches on Twitter @misterpatches
More:
'Wreck-It Ralph': Video Game Nirvana Just in Time for 'E3' — TRAILER & PICS
New Images of Disney's Video Game-Inspired 'Wreck-It Ralph' Builds Up Our Expectations
E3: 6 New Games That Need to Be Movies
[Photo Credit: Walt Disney Pictures]