Comic-Con 2013: The Most Exciting Movies!
Ender's Game
Every year, Comic-Con boasts an impressive frontier of film properties. On the horizon for San Diego's fest in 2013 are a bunch of adaptations and new titles alike, all getting us excited for the future of American cinema.
One of this year's biggest sells? Ender's Game, a long-awaited film adaptation of a sci-fi classic. Sure, the author of the novel might be a raving bigot, but that doesn't take away from our love for the story or excitement for the film.
Richard Foreman Jr./Summit Entertainment
The Hunger Games: Catching Fire
Why We're Excited: After emerging from obscurity to become everyone's favorite celebrity, Jennifer Lawrence will return to her Everdeenian roots and continue the story that got the post-Harry Potter public back to the bookshelves.
Lionsgate
Captain America: The Winter Soldier
Why We're Excited: Of all of Marvel's Phase 1 individual hero films, Captain America was perhaps the most celebrated. So we can't really find a reason not to be excited for Winter Soldier.
Marvel Studios
You're Next
Why We're Excited: The buzz about You're Next is that it's another dark, intelligent horror genre send-up, in the vein of The Cabin in the Woods, but even more gruesome. Win-win?
Corey Ransberg/Lionsgate
Veronica Mars
Why We're Excited: The first in what will prove to be a never ending line of successful Kickstarter campaigns, the long awaited Veronica Mars movie hits Comic-Con this year, spiking our excitement for the return to Neptune.
Splash News
The World's End
Why We're Excited: Generally speaking, collaborations between onscreen duo Simon Pegg and Nick Frost and director Edgar Wright have translated to comic majesty: Shaun of the Dead, Hot Fuzz, and of course the small screen wonder Spaced.
Focus Features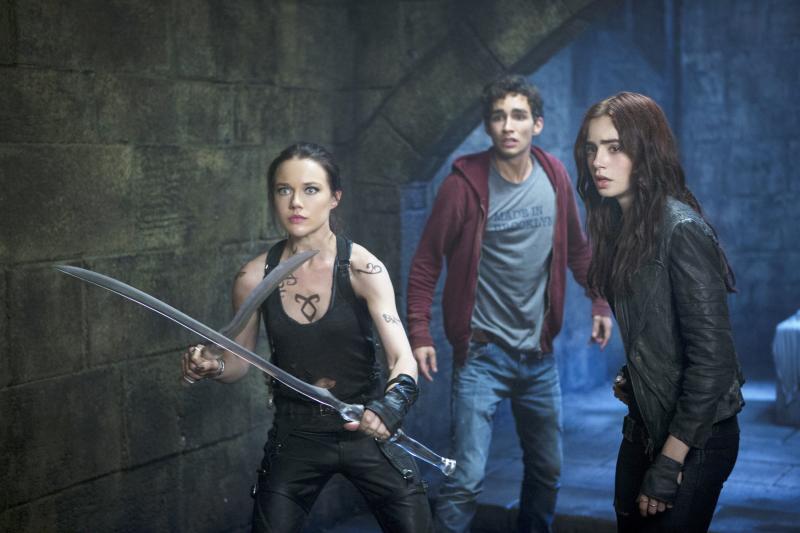 The Mortal Instruments: City of Bones
Why We're Excited: When you get a Game of Thrones villain, a former Mad Men star, and the inscrutable Jonathyn Rhys Meyers all together, you can't help but be excited for the result.
Screen Gems
Escape Plan
Why We're Excited: Because it's Stallone and Schwarzenegger, and they'll probably smash things.
Alan Markfield/Summit Entertainment
Divergent
Why We're Excited: Because Hollywood loves its Young Adult fiction, and with Shailene Woodley starring, Divergent has the promise to be as cripplingly addictive as The Hunger Games.
Jaap Buitendijk/Summit Entertainment
The Hobbit: The Desolation of Smaug
Why We're — wait a minute, The Hobbit isn't going to be at Comic-Con! Damnit, wishful thinking...
Warner Bros. Pictures