'Conan O'Brien Can't Stop': A Side of the Funnyman You've Never Seen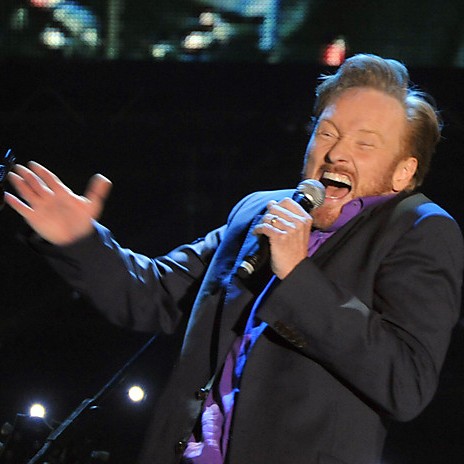 Today marks the official start of the SXSW Film Festival here in Austin, TX. Even as we prepare to cram our brains full of cinematic sustenance, conceivably bordering on sensory overload, we are nevertheless cognizant of SXSW past, and the bevy of outstanding films that have strut their hour (and a half) upon its stage.
One such title was a documentary that made a lasting impression with fest audiences just last year: Conan O'Brien Can't Stop. As it so happens, Netflix's Watch Instantly service has made it possible for this doc to make an impression upon you as well. We hope you'll consider experiencing your own slice of the SXSW legacy even if you live far from The Lone Star State.
Who Made It: Conan O'Brien Can't Stop was directed by Rodman Flender. Even weirder than his name is the road that led him to this project. For a large portion of his early career, Flender directed less-than-quality horror films like The Unborn, Leprechaun 2, and Idle Hands. But he also directed episodes of some incredibly popular television series such as Tales from the Crypt, Party of Five, Dawson's Creek, and Ugly Betty. How that landed him the keys to this documentary about a late-night television icon is beyond me.
Who's In It: As you can probably glean from the title of the film, Conan O'Brien Can't Stop centers on talk show host Conan O'Brien. It also features O'Brien's longtime sidekick Andy Richter as well as appearances from some of the most recognizable faces in comedy.
What's It About: If you aren't familiar with the controversy surrounding Conan's departure from NBC, we'll try and give you the abridged version. When Jay Leno decided to retire from The Tonight Show, the honor of hosting that seminal program went to O'Brien. But when Jay suddenly decided to return to late-night TV, NBC gave him a new show that aired just prior to The Tonight Show. They then kept pushing Jay's show later and later until Conan's Tonight Show didn't air until after midnight. This did not sit well with Conan and when he raised a stink, he was basically bought off by NBC executives and given a huge settlement contingent on his not appearing on TV anywhere for six months. This documentary follows the live comedy tour on which Conan embarks for those six months.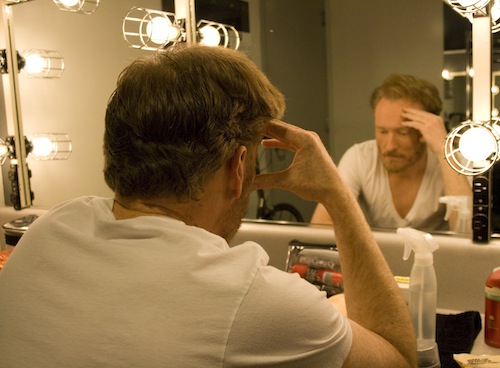 Why You Should Watch It:
Conan O'Brien Can't Stop is an absolutely fascinating film. If you are a Conan fan, and count yourself a member of Team Coco, the film is essentially a detailed peek behind the curtain at his artistic process. Seeing his jokes take shape, feeling the kinks being ironed out at the precise moment of conception, is like watching a master painter test the reach of his brush. Conan and his crew are also great improvisers so the film, as much of an under-the-hood view as it is, still manages to be hilarious. It's also great to see all his comedy colleagues (people like Stephen Colbert, Jim Carrey, and Nick "Ron Swanson" Offerman) turn up during his tour.
Seeing all these actors and personalities in an unscripted environment is refreshing. That's also a function that the doc serves eloquently for Conan himself. Not only does it show Conan at his most genuine, but he also speaks candidly and fearlessly about his anger toward NBC and how it informs his tour. We also see what a doting father and husband he is as he interacts with his family. The way Conan treats the presence of the camera aimed sharply at his life and his frustrations, if not eliminates, then definitely relaxes the barrier between celebrity and tangible human being.
Conan O'Brien Can't Stop is as much a movie about obsession and unwavering passion for one's calling as it is about one well-known funnyman. O'Brien is a living parable about the conflict and tumultuous relationship between creative types and executive types. He is furious with Jay, with NBC, but most of all with his inability to perform before television audiences as a result of what went down. He channels his rage into a creative outlet that also feeds his relentless need to create hilarity for crowds of people. We watch him exorcise a lot of demons in his comedy. His dedication to, some would say unhealthy fixation with, his craft is evident in the fact that he conceived of he tour the day of his last Tonight Show taping, and spends each of his few days off during the tour performing in impromptu additional shows. Almost as soon as the tour was done, he dove into his new late-night gig for TBS. Never has film title been more apt.