Connecting the Cast of 'Trainwreck' From Judd Apatow to Ezra Miller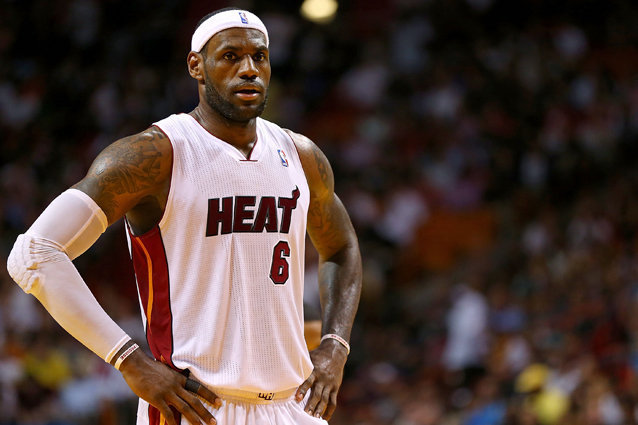 Mike Ehrmann/Getty Images
The NBA season might be coming to a close, but it doesn't look like Lebron James will be taking a vacation any time soon. According to TheWrap, the Miami Heat star has joined the cast of Judd Apatow's upcoming comedy Trainwreck, along with rapper/actor Method Man. The film will star Amy Shumer, who also wrote the script, and follows a woman who has a knack for ruining everything in her life as she attempts to rebuild from the ground up. It hasn't yet been revealed what kind of role Method Man or James will play, but since the latter only has a short window of free time every year, it seems likely that his will be a smaller part.
The pair are the latest additions to Trainwreck's diverse cast, which includes indie darlings, Oscar nominees and Councilman Jamm, in addition to a rapper and an NBA champion. Upon first glance, the cast list might read as if several IMDB pages got mixed up, but this strange group of people actually make perfect sense together, because all of the big names involved with the project are connected. In fact, it's possible to connect every single person who has signed on to this film, from James to Bill Hader to Tilda Swinton, with a maximum of two degrees of separation between them – surprisingly, none of which are Kevin Bacon. Let's start with the director:
Judd Apatow directed Funny People, which starred Aziz Ansari, who was on Parks and Recreation with…
Jon Glaser, who plays Laird on Girls, which also featured…
Colin Quinn in the role of Hermie. Quinn is a Saturday Night Live alum just like…
Bill Hader who was on SNL at the same time as…
Vanessa Bayer, who is part of the current cast with Bobby Moynihan, who does voice work on Chozen alongside…
Method Man, who starred in The Sitter with Jonah Hill. Hill was in 21 Jump Street with…
Brie Larson, who guest starred on an episode of The Kroll Show, which airs on the same network as Inside Amy Shumer, which stars…
Amy Shumer, who appeared in Sleepwalk With Me, a film made by…
Mike Birbiglia, who had a role in Your Sister's Sister with Emily Blunt. Blunt has acted opposite Tom Hanks, as did…
Barkhad Abdi, who was nominated for an Oscar, just like…
Tilda Swinton, who is in The Zero Theorem with Matt Damon, who appeared on Entourage with…
Lebron James, who is an athlete-turned-actor, as is…
John Cena, who guest starred on Pysch, which airs on the same network as Royal Pains, which featured a 5 episode guest spot from…
Ezra Miller, who starred in The Perks of Being a Wallflower with Paul Rudd, a perennial favorite of Judd Apatow. 
See? It's not such a strange bunch after all.