Tom Cruise Almost Had Connie Britton at 'Hello' in 'Jerry Maguire'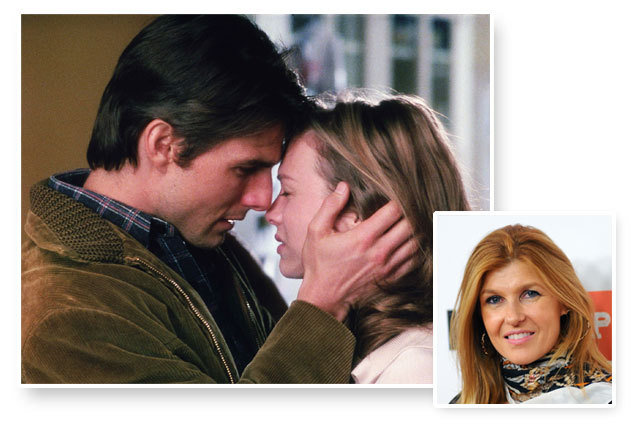 Although we'll always think of Harrison Ford when we think of Indiana Jones, Keanue Reeves when we picture Neo, and Michael J. Fox when we reminisce about the adventures of Marty McFly, it's funny to acknowledge that these parts — as with many now-iconic movie characters — came very close to landing other actors entirely. Indy could have been Tom Selleck, Neo could have been Will Smith, McFly could have been Eric Stoltz. And the latest to be revealed in this line of alternate timelines is that which nearly embraced Cameron Crowe's classic romance, Jerry Maguire. On Wednesday, Nashville and Friday Night Lights star Connie Britton revealed to The New York Times that she was almost given Renee Zellweger's role.
Britton explains that director Crowe sent her the script back during production on the movie. "So I took it home and I read it," she says. "I was blown away. I loved the script, the role — I was like, 'Oh, my gosh, this is incredible.'"
RELATED: Who Almost Took Anne Hathaway's Role in 'Les Miserables'?
Having yet to really break out into show business, Britton was passionate about earning the role of Dorothy Boyd. She says, "And I walked into my brand-new agent's office the next day, and I put the script down on his desk, and I was like, 'I have two words for you: Jerry Maguire.'"
And while Britton's screen test may have brought her very close to starring opposite Tom Cruise in the oft-quoted film, she explains that there was one minor issue: "they just want to screen-test one other actress." And that, of course, was Zellweger. "It was heartbreak," Britton says.
So what gave Zellweger the edge over the indelibly talented Tami Taylor to be? Britton speculates: "Maybe I was too tall." After all, at around 5'8″, Britton would have had an inch or two on her potential costar Cruise (a dealbreaker in the Hollywood world). Zellweger, at only 5'4″, would fit more snugly into a frame opposite Mr. Maguire.
RELATED: Why Uma Thurman Almost Turned Down 'Pulp Fiction'
But we can't be too displeased with the fate we were dealt: in the absence of Jerry Maguire, Britton kicked off a long, much adored television career — 1996 placed her in the pithy sitcom Spin City, which she would eventually follow with occasional appearances on 24 and her beloved starring spot on Friday Night Lights. And now, following her haunting turn on American Horror Story, the world is treated to weekly doses of Britton on ABC's Nashville.
So we can't be too remiss about the actress' missing out on Jerry Maguire. You may not have snagged this role, Britton, but with everything you've done since, we can still sincerely profess: you complete us.
Follow Michael Arbeiter on Twitter @MichaelArbeiter.
[Photo Credit: TriStar Pictures; Ivan Nikolov/Wenn]