Coppola's 'Twixt' Trailer Is Bizarre, Engaging Gothic Mystery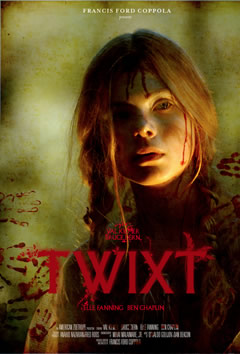 Francis Ford Coppola's work in the '70s and '80s, including The Godfather and Apocalypse Now, helped solidify him as one of cinema's master directors. But around the mid to late '90s, he started to fade from the mainstream, scrapping plans for his decade-in-the-making sci-fi picture Megalopolis in favor of taking a break and going back to his indie roots. While I'd love to point fingers at the Robin Williams-as-a-ten-year-old flick Jack, the business itself was to blame—the man wanted to rediscover why he loved making movies.
Enter the rejuvenated Coppola, who took the San Diego Comic-Con stage this year to wow on-lookers at his latest project Twixt. Following in the footsteps of his previous two indie efforts, Youth Without Youth and Tetro, Twixt once again employs non-traditional filmmaking techniques and Coppola's dusted-off obsession with technology. Twixt tells the story of a horror writer (Val Kilmer) who strives to break free of his creative boundaries—in this case, writing books about witches. Along the way he connects with a wacky town sheriff, a young vampress (Elle Fanning) and Edgar Allen Poe's ghost.
What?
The first trailer for Twixt doesn't offer many answers, but that might be the point. The drama looks to be at its strongest when Coppola loses himself in the film's gothic fairytale and mystery elements, but when it's simply following Kilmer toiling over his book, the plays like a direct-to-DVD movie. If Twixt can overcome its banal visuals with a straight up shot of strangeness, it could be a return to the spotlight for Coppola. If not, you may see this one on Netflix sooner than later.