'Cowboys' Take Down 'Smurfs" at the Box Office!
The Universal/DreamWorks co-production of Cowboys & Aliens starring James Bond's Daniel Craig and Harrison Ford was locked in a tie with Sony's The Smurfs with both films reporting $36,206,250 for the weekend. This box office tie was settled today with final figures putting Cowboys in first place with $36,431,290, only $819,653 ahead of The Smurfs which took in $35,611,637.  Daniel Craig is no stranger to such box office close calls with kid-friendly fare.  His James Bond epic Casino Royale was bested by the penguins of Happy Feet back in November of 2006 when that film came in just $700,276 ahead of Mr. Bond.  The video below was edited before the final results were available, but watch it because its still packed with great information.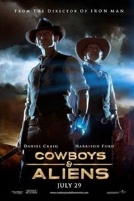 Cowboys & Aliens features Jon Favreau, the director of the Iron Man series at the helm and the producing team of Steven Spielberg, Ron Howard and Brian Grazer.  This truly original film defied categorization and thus projections for its opening weekend were all over the map, though this debut is similar to the $35.5 million debut of another tough to categorize film, Super 8, a film that has now earned close to $125 million in North America.
Sony Pictures Animation's The Smurfs in 3-D exceeded expectations by a mile with projection putting it on either side of $30 million.  Our little blue buddies proved that they are pretty feisty and are now in a battle for first place with James Bond (Craig) and Indiana Jones (Ford).  The film is based on the wildly popular Smurfs comic books and the 1980s animated TV series.  Starring Neil Patrick Harris, the PG-rated live action/animated family film is the very definition of cute and with its Smurfs out of water theme was catnip this weekend to kids and their parents alike.
The red, white and blue of Paramount/Marvel Comics Captain America: The First Avenger got "Smurfed" this weekend coming in third place with $24.9 million.  The First Avenger debuted in first place last week with $65 million, but dropped 62% this weekend.  The film easily crossed the $100 million mark after 10 days of release. 
Warner Bros.' Harry Potter and the Deathly Hallows, Part 2 has conquered the box office world with numerous records to its credit and a franchise worldwide total that has now crossed the $7.4 billion mark.  This weekend another milestone was reached with this final installment crossing the $1 billion mark worldwide!  A third weekend North American gross of $21.9 million has raised its 17 day domestic total to $318.5 million (beating the first film Harry Potter and the Sorcerer's Stone and its $317.6M) and makes it now the highest grossing Harry Potter film in North American revenues!
Crazy, Stupid, Love. from Warner Bros. offers a PG-13 rated comedy respite in the wake of five R-rated summer comedies that have dominated the summer box office.  Featuring a terrific ensemble cast including Steve Carell, Ryan Gosling, it girl Emma Stone, Julianne Moore and Marisa Tomei, the date crowd will find much to love in this crazy mix of comedy and drama.  An opening weekend gross on the higher end of expectations at $19.3 million ensured a fifth place debut this weekend.
Cowboys win the Weekend!
A dead even tie was broken today with Cowboys taking the Smurfs, but not by much!
    Movie     Weekend Gross     Total to Date
1     Cowboys & Aliens (NR)     $36.4M     $36.4M
2     The Smurfs (PG)     $35.6M     $35.6M
3     Captain America: The First Avenger (PG-13)     $24.9M     $116.8M
4     Harry Potter and the Deathly Hallows, Part 2 (PG13)     $21.9M     $318.5M
5     Crazy, Stupid, Love. (PG13)     $19.3M     $19.3M