Dan Aykroyd on 'Ghostbusters 3′: "It's Time Now to Sit Down and Make This Movie'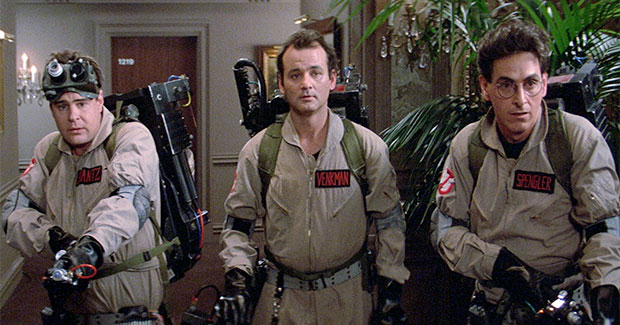 Actor/comedian Dan Aykroyd has two passions in the later stage of his career: he wants to promote and sell his Crystal Head vodka and he wants to make another Ghostbusters movie. But the man can't catch a break.
In a recent interview with Esquire, Aykroyd suggests that there must not be something strange in the neighborhood, as he has not received any calls in regards to his long-gestating Ghostbusters 3 project. But that hasn't dampened his enthusiasm for realizing the film. As he tells the magazine:
"I've worked on every draft in the last three years, as Ivan has, and now we have a story and a draft that everybody seems to agree would make the third movie. At this point, I think we're closer than we ever have been. And because of the ever-shifting sands and nature of the motion-picture business, I will just say that hopefully, at some point, it will be morphing into what is known in the business as a [Aykroyd mimes air quotes] 'production number XP39789.'"
After years of speculation and unused drafts written by Aykroyd himself, scripts that infamously sent the ghostbusting quartet to Hell, Ghostbusters 3 finally picked up steam in 2008 with the official hiring of Office writers Lee Eisenberg and Gene Stupnitsky. Since the announcement, Aykroyd, director Ivan Reitman, stars Harold Ramis and Bill Murray, and the writers themselves, have provided their steady streams (never crossing) of rumors and clarifications, creating one messy mosaic of information.
From Aykroyd's descriptions, the biggest problem facing Ghostbusters 3 is all the parties involved. Each of the core members of the group, Reitman, and the studio all have a say in what passes as "the right script" for the film, and the project has come close to fruition in the past. Aykroyd says they nearly moved forward with Eisenberg and Stupnitsky's script, but Murray shot it down. "If Billy had said yes, it would have satisfied his performance and what he wanted in the movie, it would have satisfied his performing skill and how he wanted to be depicted in the movie, it would have satisfied the studio, the writers who wrote it, everybody — Ivan, me, Harold, we were all happy with it."
Fandom for Ghostbusters is clearly existent — a recent report that Murray officially signed on to the film sent fans into a tizzy — which may be the fuel that keeps Aykroyd powering forward to get the movie made. A new script was written by Men in Black 3's Etan Cohen, but everyone involved is still playing a waiting game. The last report on Ghostbusters 3 left things murky for the film's future, Sony Pictures leaving the greenlight decision until the last possible moment, March 2013. (Hollywood.com has reached out to Reitman's Montecito Pictures, the production company behind Ghostbusters 3, for an update on the production, but they could not be immediately reached for comment.) Aykroyd won't be patient forever.
"We can't wait forever. And now's the time to tell the picture company, and I'd say this quite publicly, it's time now to sit down and make this movie, or you will lose your main principals, and you won't be able to make it without us, because we have rights."
There may be life left in Ghostbusters, but not much. Is it time to let Ghostbusters 3 slip into the afterlife?
Follow Matt Patches on Twitter @misterpatches
[Photo Credit: Columbia Pictures]
More:
'Ghostbusters 3' Shooting Pushed to Fall 2013 — Will It Ever Happen?
'Taken 2' Writer Talks Sequelizing, Says Success Means 'Taken 3' Is On — EXCLUSIVE
'Wanted 2' Update: No Jolie, But New Female Character — EXCLUSIVE
From Our Partners:

25 Things You Didn't Know About 'Aladdin' (Moviefone)

Best Hit Men Movies Ever (Moviefone)