Danny Boyle's Art Heist Film 'Trance' Gets a Release Date, Cool New Poster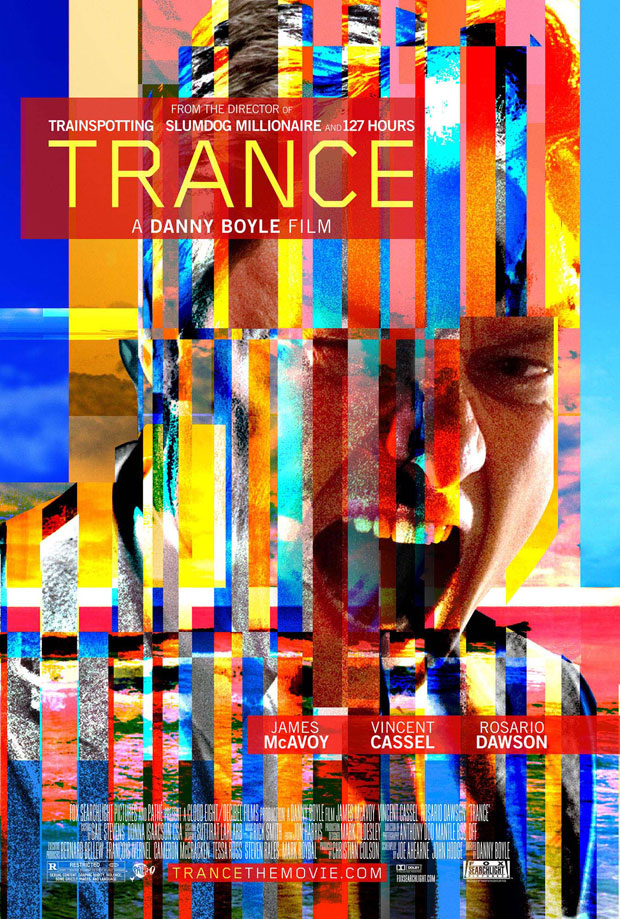 Danny Boyle's latest film, Trance, is a little more complicated than your typical art heist flick. It's more of a psychological thriller than a crime drama, for starters. James McAvoy stars Simon, as an art auctioneer who gets tied up with a shady criminal element (led by Vincent Cassel, naturally) and tries to steal a multi-million-dollar Goya painting. He doesn't quite get away with it, though — he's hit on the head during the heist and can't remember where he hid the painting.Enter Rosario Dawson, who plays Elizabeth, the psychologist who hypnotizes Simon in an attempt to locate the valuable piece of art. Teases the tagline, "As Elizabeth begins to unravel Simon's broken subconscious, the line between truth, suggestion, and deceit begin to blur." Juicy!Trance hits theaters on April 5 in a limited release. Until then, whet your appetite with this pretty sweet new poster. It clearly takes its inspiration from the art world, though it's a tad more modern and colorful than Goya's romantic style. Trance began filming in September of 2011, with Boyle taking a break in the middle to work on the London 2012 Opening Ceremonies.
Follow Jean on Twitter @hijean
[PHOTO CREDIT: Fox Searchlight]
More:
Rosario Dawson Joins Danny Boyle's 'Trance'
James McAvoy to Star in Danny Boyle's 'Trance'
Danny Boyle to Direct 'Trance'

J. J. Abrams and 'Star Wars': Has the Lightsaber Been Passed to the Right Director?