'Dark Knight Rises' Shootings: NYPD to Secure All Movie Theaters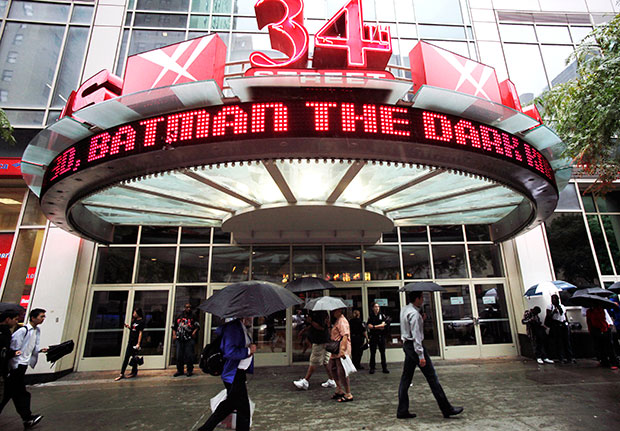 In the wake of the shooting at a Dark Knight Rises midnight screening in Aurora, Colo., that left 12 dead and 38 wounded Friday morning, the New York Police department has decided to provide coverage at all theaters in its jurisdiction. "As of now, they are starting coverage because there [are] some theaters that started showing it at midnight," NYPD spokesperson Detective Marc Nell tells Hollywood.com. Nell tells Hollywood.com theaters in all five boroughs will be secured, though the NYPD is not sure of the duration of the increased security at this time. 
While the NYPD will be at the theaters, they will not be patrolling inside the theaters. Nell tells Hollywood.com that authorities will be securing areas outside of the buildings. ("We're just covering the location," Detective Nell says.)
Despite the increased security surrounding theaters, moviegoers headed to the movies this weekend won't be searched by NYPD or metal detector. "We wouldn't be involved in screening anyone who goes into private property," he says.
West Coast law enforcement agencies are also taking precautions following the tragedy. "Our units have been directed to give extra patrol to the theaters, especially those that would have a midnight showing of the Batman movie," Sergeant Chuck Slater of the LAPD Hollywood Area says. "Just providing extra patrol when they can in between calls for service when they can."
Immediately after learning about the Aurora shooting Friday morning, LAPD Hollywood Area sent a unit to one of the five theaters in their jurisdiction, the Arclight Theater, in order to debrief the theater on security measures. "We just advised them regarding security and [stood] by until the movie started," Sgt. Slater says. "There were no incidents at all. Everybody in the crowd was orderly."
[Photo Credit: Mark Lennihan/AP Images]
More:
Warner Bros Responds to 'Dark Knight Rises' Colorado Gunman Attack
Gunman Kills At Least 12 at 'Dark Knight' Midnight Screening: UPDATE