'Dark Knight Rises': Warner Bros Won't Report Grosses Until Monday — UPDATE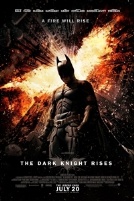 UPDATE: In a move of solidarity, other Hollywood studios have agreed to withhold releasing box office numbers this weekend, following Warner Bros' decision to do so yesterday. For more on this story, click here.
EARLIER: 
Just hours after a lone gunman opened fire at a
Dark Knight Rises
 screening in Aurora, Colo., Warner Bros. Pictures announced they will not be releasing box office numbers until Monday.
The studio released the following statement:
"Out of respect for the victims and their families, Warner Bros. Pictures will not be reporting box office numbers for The Dark Knight Rises throughout the weekend. Box office numbers will be released on Monday."  In this unprecedented move, the studio will not release box office numbers throughout the weekend; a practice that is standard for Warner Bros. and most other major studios as well. This highly unusual step will leave it up to reporters and box office trackers alike to cull grosses from studio competitors if such grosses are made available.
We are, of course, in uncharted territory in the wake of the tragic movie theater shooting that left 12 dead and many others wounded in Aurora, Colo., and will be on top of the situation as we continue into the weekend.
Earlier on Friday, ticket holders expressed reservations to Hollywood.com about attending movie theaters this weekend following the news that alleged gunman James Holmes, 24, unleashed a shooting spree during a midnight screening in the Denver area. Holmes is currently in police custody, and the NYPD — as well as theaters on the West Coast — told reporters police will be securing the areas surrounding theaters for an undetermined length of time. Aurora Police Chief Dan Oates told the public during a press conference that the shooter "acted alone."
More:
Dark Knight Rises Shooting: 71 Wounded, 12 Dead
Midnight Movie Screening Culture: What Happens Now?
Dark Knight Rises Shooting: Will People Head to the Theaters?