'Dark Skies': Keri Russell 'Would Kick the S**t Out' of Aliens If They Invaded 'The Americans'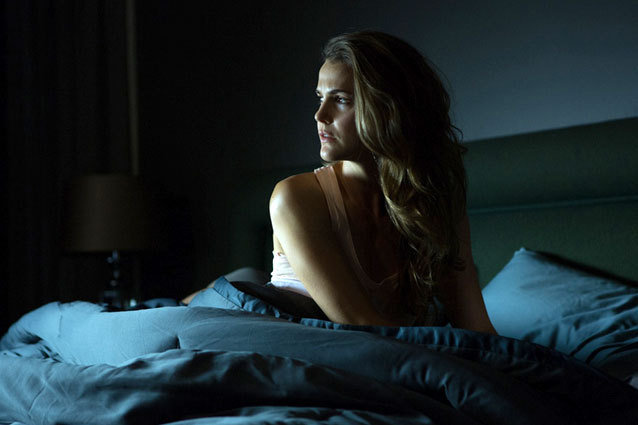 When one thinks of Keri Russell, "scream queen" isn't normally the first thought that comes to mind. Russell has made a name for herself as a cerebral dramatic actress, in shows like Felicity and on FX's latest drama, The Americans. But even the serious gals have to have fun sometimes, and that's why Russell signed on to star in Scott Stewart's sci-fi alien invasion horror flick, Dark Skies.
"I just read it and thought, 'that's going to work,' Russell says. "I knew it. I bought the family [from the film.] I cared about the family. I thought it was realistic, fun, and scary. I brought a group of my good girlfriends to the screening. I was like, 'I don't want to see that movie alone!' We brought beers and saw it, and we were just cackling with delight. It's that mix of fear, and loving it."
Russell's right about that fear — Hollywood.com also screened the movie (which goes for goosebumps and jumps rather than gore), and spent the latter half of the film curled up in a ball, eyes shut. Russell plays a mother of two, and when mysterious "happenings" (like hundreds of birds suicidally flying smack into their home) begin to terrorize the family, it becomes very clear that malevolent visitors have officially come to play. But these visitors are only seen in bits and terrorizing pieces until the final, dramatic conclusion, which was part of the allure for Russell.
"It's the possibility of something lurking that's scary," she says. "And it's pretty! It's artsy, and not just some gross chop-it-up movie."
Of course, this being a supernatural horror movie, there's always that one character who maddeningly denies what's happening until it's too late. And in Dark Skies' case, that's Daniel (Josh Hamilton), Russell's husband — but Russell, a real-life mom, says she wouldn't make that same mistake. "I would do anything to protect [my kids]," she says. "I would definitely believe in aliens, in a heartbeat. And Elizabeth [from The Americans] would kick the s*** out of them."
Err, not so sure about that. We've seen the not-so-little, not-so-green green men, and it would definitely take more than a few kicks to knock them down. Still, Russell says there's more to the film than what meets the eye — it's the aliens' ambiguous motivations that really get you thinking. "It's such a fun, believable, good scary movie," she says. "At its heart, it's a cool art movie. It's Poltergeist-y. The main thing is, why is this family being targeted? What do [the aliens] want specifically, and what will they do when they get it?"
You really don't want to know.
Dark Skies arrives in theaters on Friday, Feb. 22.
Follow Shaunna on Twitter @HWShaunna
[Photo Credit: Dimension Films]
---
From Our Partners:

Bradley Cooper Dancing Is Surprisingly Awkward, Sweaty (Vh1)

Kate Upton Bares All in Nothing But Body Paint: Video (Celebuzz)