'Das Boot' Blu-ray Giveaway!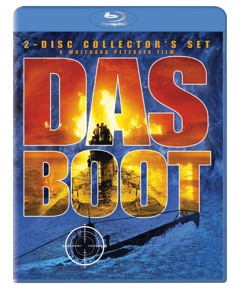 Do you like movies? If you're reading this post on this site, I'd bet you do. The real question is: do you like classic films? If so, then Das Boot, despite its language, shouldn't be so foreign to you. Wolfgang Petersen's seminal submarine thriller is a thoroughly engaging epic filled with stirring performances from the likes of Jurgen Prochnow, Herbert Gronemeyer and Klaus Wennemann, wonderfully rendered sets and an unsettling tone that will keep you on the edge of your seat throughout the films' entire four-hour runtime!
Whether you're a longtime fan of the 1981 film or are first hearing about it now, I'm sure you'd like to own the 6-time Oscar nominated motion picture on Blu-ray, yes? Then take to Twitter right now, because we're giving away a copy of the 2-disc collectors set today!
Here's what you need to do:
1. Follow us on Twitter.
2. Send us a tweet over at @Hollywood_com with the hashtag #WinDasBootBlu
That's it! A winner will be selected at random on Thursday, July 7th and contacted via Direct Message (DM). *Please note that winner MUST have a US mailing address.*
Now get tweetin'!!