David Koepp Writing 'Men in Black 3'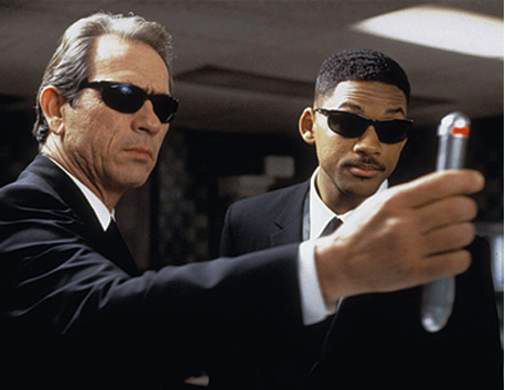 Although we already reported that Sony has been planning on making Men In Black 3 (or MIIIB) ever since Men in Black II came out in 2002, we now have new information that veteran writer David Koepp (Jurassic Park, Mission: Impossible, Spider-Man) has signed on to re-work the original draft of the script, penned by Etan Cohen.
MIIIB will be filmed in native 3D with co-stars Will Smith and Tommy Lee Jones returning, with the welcome addition of Josh Brolin (playing a late 1960s Jones), Jemaine Clement (Flight of the Conchords) and the peerless Sacha Baron Cohen.  Barry Sonnenfeld will once again direct, with Walter Parkes and Laurie MacDonald producing, and Steven Spielberg executive producing.
Production on MIIIB will begin this fall, though Universal isn't planning a release until May 25th 2012.  That means the studio will be moving Battleship, their Peter Berg-directed adaptation of the Hasbro game, up a week, to May 18th, where it will compete with DreamWorks Animation's scheduled Madagascar 3.  Those films join a number of other high-profile studio projects planned for release in summer 2012, including The Avengers, J.J. Abrams' Star Trek 2, the Spider-Man reboot, and Christopher Nolan's third Batman movie.
Summer 2012 is still a long way away, but for now, enjoy this bootlegged teaser of Will Smith in full MIB regalia, bragging that he's going to make 3D "look good."