Why David O. Russell's New Movie Is Called 'American Hustle'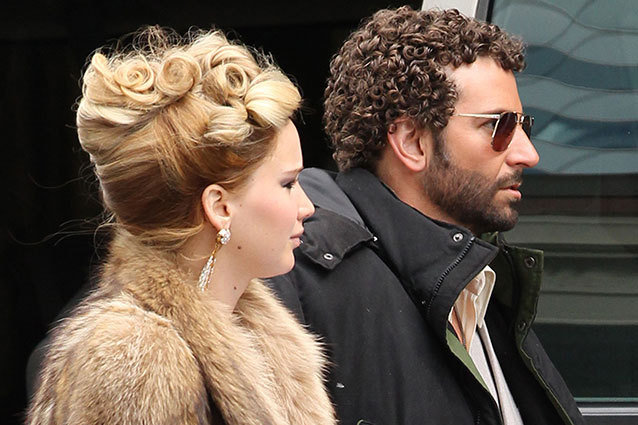 Despite the satisfaction factor of the film's original title, American Bulls**t, David O. Russell's latest venture has a new name: American Hustle. And while the original title didn't get us much further, this one takes the confusing cake. 
Is it a plea from a hustler to the fair maiden he wants to "Gimme that funk, that sweet, that nasty, that gushy stuff"? Nope, that's a Jay-Z song. Is it an indie movie about a pimp/drug dealer played by Terrence Howard? Nope, that's Hustle and Flow. Oh, it's a movie about a gangster in 1940s Shanghai, right? No. Stop. That's Kung Fu Hustle. Russell's Hustle stars Bradley Cooper, Jennifer Lawrence in a blonde wig, Christian Bale, and Amy Adams and is the tale of an FBI sting operation called Abscam that took down a slew of U.S. congressmen. Perhaps we should consult a thesaurus to avoid all this confusion.
Or, we could run down all the essential things you need to know about the movie so the Hustle might make a little more sense. 
1. The name Abscam comes from "Abdul scam," which comes from the Abdul Corporation, which the FBI used as a front for their sting. 
2. The point of the Abscam mission in 1978 was to target corrupt government officials who were accepting bribes, hence the word "hustle" in the title.
3. The FBI targetted 31 officials and nabbed a total of six by the end of the program, so in a sense, they were hustling too. Why hello there, double meaning. 
4. In the movie, Jennifer Lawrence wears an awful blonde wig and some grade-A terrible coats and dresses… and accessories. She certainly looks like someone on the arm of a hustler… a hustler like Bradley Cooper, who's rocking an oddly Justin Timberlake-esque curly 'do in the movie as well. Point three!
5. They couldn't call the movie American Bullshit. Does anyone else remember how much trouble we had working out way around $#*! My Dad Says?
Follow Kelsea on Twitter @KelseaStahler
More:
What's With Bradley Cooper's Hair in the New David O. Russell Movie?
Jennifer Lawrence is Unrecognizable On Set For David O. Russell's FBI Movie
David O. Russell Teams With Louis C.K. For New Movie 
---
From Our Partners:


Eva Longoria Bikinis on Spring Break (Celebuzz)


33 Child Stars: Where Are They Now? (Celebuzz)