David Slade Tapped To Sequelize 'Daredevil'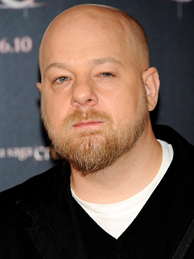 David Slade has made quite a name for himself in the fan-boy (and fan-girl) community. After coming onto the scene with the riveting thriller Hard Candy, Sam Raimi hired him to helm the dark comic book adaptation 30 Days Of Night. Vampires have since been a mainstay for the British filmmaker, as he most recently made Summit's The Twilight Saga: Eclipse the highest grossing film in the soapy supernatural series (domestically) and just last month signed on to direct the big-screen adaptation of The Last Voyage of the Demeter, a Dracula tale straight out of Bram Stoker's seminal novel.
However, it looks like he's simultaneously taking a step backwards and forwards with his next move: jumping on board the Marvel train to help the studio produce a sequel to Daredevil. It's a step backwards because, like his sophomore effort, it's a comic book adaptation. But it's also a step forward because he needed to find a project that would let him focus on something else other than vampires and Daredevil will be unlike anything else he's ever been a part of.
Hiring Slade is a confidence-boosting creative choice for Marvel Studios and 20th Century Fox, which produced the 2003 original that starred Ben Affleck and Jennifer Garner. With Eclipse, he was able to make a franchise film that was worlds better than its previous entries and that is essentially what his job is on Daredevil. The character is ripe with brooding attitude and gritty storytelling potential, so he should be right at home with the material. My hope is that Slade will embrace a more realistic approach to The Man Without Fear; one that will find him in more hardcore hand-to-hand combat situations with less emphasis on the Elektra love-story. In many ways, Matt Murdock is the Bruce Wayne of the Marvel Universe, so there's no reason that, if taken seriously, the character won't connect with contemporary audiences.
Source: Variety