'Dawn of the Planet of the Apes,' an 'X-Men' Sequel and … 'ID4 3D'?!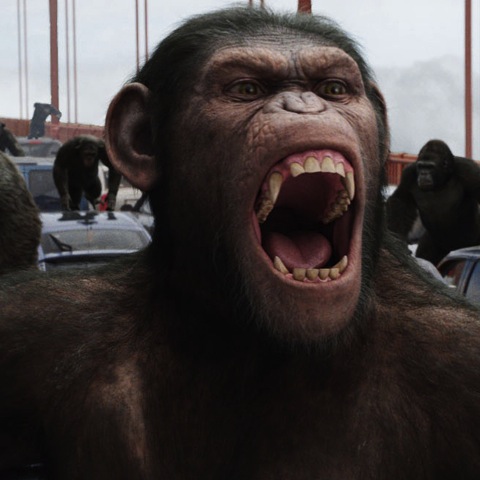 Almost exactly four months after sequels for X-Men: First Class and Rise of the Planet of the Apes were confirmed, they each get a release date: The former will hit theaters on July 18, 2014, while Dawn of the Planet of the Apes is due May 23, 2014.
Both movies were huge hits for 20th Century Fox last summer, earning the studio more than $800 million combined at the worldwide box office. So it is no surprise that sequels to both were greenlit pretty quickly. As of now, it appears that both of the films' directors, X-Men's Matthew Vaughn and Planet of the Apes' Rupert Wyatt, will reprise their respective behind-the-camera roles on the follow-ups.
Meanwhile, it was just announced — although certainly inevitable all along — that the Will Smith star-maker Independence Day will be rereleased in 3D on on July 3, 2013, 17 years to the day after ID4 (alien-)invaded theaters. It was previously reported that two sequels to the movie were in the works as well, so maybe the studio will wait to gauge interest in the 3D version before starting work in earnest on new installments.
Finally, and much less exciting by comparison, Steven Spielberg's highly anticipated sci-fi/drama/actioner Robopocalypse has been pushed back from the aforementioned Independence Day rerelease date of July 3, 2013 (possibly because of that news) to April 25, 2014. Does that mean that in the not-so-distant future, summer will start in April?! Disney also shifted the Johnny Depp-starring Lone Ranger from May 2013 to July 4, 2013.
And if you think that's the end of the shuffling, think again — as demonstrated this summer by G.I. Joe: Retaliation, no movie is safe until it actually hits theaters!
More:
'X-Men: First Class' and 'Rise of the Planet of the Apes' Sequels Confirmed
Back-to-Back 'Independence Day' Sequels to Invade Earth