Believe It: The Best Crime Dramas Are Arriving From Scandinavia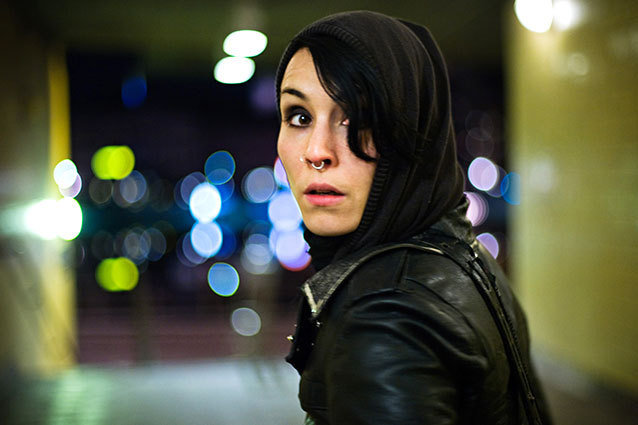 When one thinks of Scandinavia, several images may spring to mind; ancient Vikings, quaint fishing villages, perplexing furniture megastores. Over the last few years however, a new element has arisen to, at least partially, define that most northern region of our planet: crime fiction. For some reason, perhaps it's the solitude of being shut inside on long winter nights, countries like Norway, Sweden, and Denmark are churning out dark, gripping crime films.
Though some of these films make their way to the United States, the few that become even relatively popular are usually snatched up for American remake. The originals are often so revered, however, that those responsible for their creation will be given opportunities to cross over into making films in America. Case in point, this week sees the theatrical release of Dead Man Down, starring Noomi Rapace and directed by Niels Arden Oplev. Need a refresher course on these two? Want to delve into more outstanding Scandinavian crime films? Here are few we would highly recommend:
The Girl with the Dragon Tattoo
Probably the most well known of the Scandinavian crime films, and one that was largely responsible for the resurgence of this strange niche is Sweden's The Girl with the Dragon Tattoo. This bleak mystery follows a journalist and a hacker as they probe the years-prior disappearance of a young woman, uncovering many shadowy secrets about her family along the way. The thing that makes the original Girl with the Dragon Tattoo so compelling is that the journey to the truth is every bit as drenched in shock and horror as is the final reveal. Noomi Rapace first played the cybergoth badass Lisbeth Salander in Niels Arden Oplev's adaptation of Stieg Larsson's wildly popular novel prior to Rooney Mara's interpretation in the David Fincher remake. Dead Man Downtherefore represents a very intriguing reunion. The entire "Millennium Trilogy" is currently streaming on Netflix.
RELATED: Noomi Rapace Reveals She's Talking 'Prometheus 2' With Ridley Scott
Headhunters
Not only a standout of this particular genre, but quite possibly one of the best films of 2011, Norway's Headhunters is a crowd-pleasing, spiraling crime farce. Based on a novel by Jo Nesbo, the film follows a corporate headhunter who uses his interviews to find new marks for his nightly activity: stealing valuable works of art. What's fascinating about Headhunters is how much empathy we as an audience are willing to lend to, by all rights, a despicable human being. There is a natural sort of dark comedy in how completely in over his head Roger gets, and how he has to claw his way out. The film also boasts some tremendously snappy editing that keeps the tension brewing at all times. Headhunters is currently streaming on Netflix. Game of Thronesfans might recognize costar Nikolaj Coster-Waldau as the dastardly Jaime Lannister from the HBO series.
Jackpot
Like Headhunters, Norway's Jackpot is also based on a novel by Jo Nesbo. It centers on a blue-collar schlub named Oscar who makes the mistake of making a large sports wager with some of his less reputable coworkers…the bigger mistake, as it turns out, was winning the bet. Like the art-stealing protagonist of Headhunters, all the criminals in Jackpot quickly realize they are operating beyond their capacity for underhandedness, allowing for the construction of a comedy of errors. The action sequences in Jackpotare surprisingly just as well crafted as is the humor, and the ever-shifting group dynamic is outlandishly entertaining. The playful chronology of the piece allows for the ending to appear less as a twist and more as the inevitable, but thoroughly satisfying conclusion.
RELATED: The 6 Best Gangster Movies You've Never Seen
Plan C
Dutch crime comedy Plan C once again plays upon the theme of a hapless amoral protagonist who dabbles in full-scale criminality, but ultimately ends up biting off far more than he can chew. In Plan C, that antihero is a gambling-addicted police detective who hires two crooks to knock over an illegal casino. Though his motives are sympathetic enough, trying to pay off the Chinese mob threatening his family, it is really the two oddball thieves that carry the movie and, in some instances, prove more amiable than the detective. What Plan C does possibly better than any of the other movies on this list is point out the absurdity of the notion of a foolproof criminal scheme. The disastrous chain of events in the hotel room near the end is sterling evidence of the existence of Murphy's Law in the underworld.
Just Another Love Story
Ole Bornedal's Danish crime drama Just Another Love Story actually seems somewhat aware of its region's own noir legacy. At one point, a character quips,  "beautiful women and a mystery…isn't that how all film noirs begin?" The film centers on a police photographer who inadvertently causes an automobile accident that sends a young woman into a coma. While checking on her, the woman's family mistakes him for her boyfriend and he can't bear to make their lives worse by admitting the truth, especially after she wakes with no memory. This movie is aptly named, as there is something enthrallingly romantic in our hero's task. His sincere wish to restore the woman's memory is heartbreaking, and he begins to become lost in the world he has constructed for her. As the truth of the woman's story prior to the crash begin to surface, however, it's clear that his good intentions will potentially doom him. Bornedal made his own leap to American films when he directed last year's Jewish horror film The Possession.
[Photo Credit: Knut Koivisto/Yellow Bird Films]
From Our Partners:


Kim Kardashians Best Bikini Moments (PHOTOS)

Brooke Mueller Overdose? Rep Speaks About New Drama For Charlie Sheen's Ex