Review: 'Dead Man Down' Would Be Alright If It Wasn't for All the Stuff That Happens In It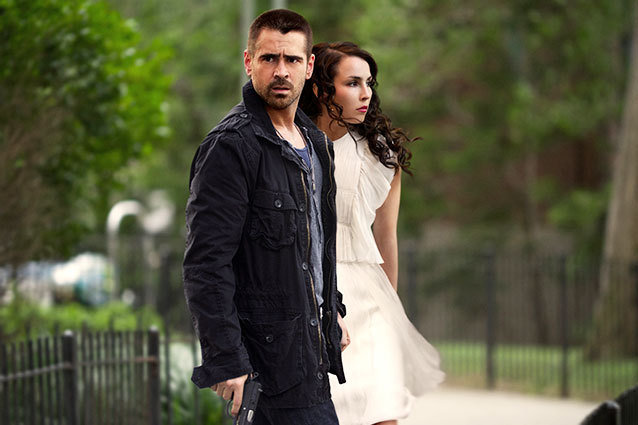 Peppered throughout the colossal headache that is Dead Man Down's plot are some moments when you're bound to say, "Man, I could almost see myself liking this thing." But sooner than your fellow theatergoers can shush you for speaking openly during a movie, you'll be redirected to a clue to why you won't likely be recalling the crime drama with much fondness after all.
The film gushes bleak blood, opening with a speech about finding love and connection in the dismal world our hero Colin Farrell has built around himself. Long after losing his wife and daughter at the hands of a crime lord (Terrence Howard), we meet Farrell posing as one of the mobster's right-hand men. Farrell's Lazslo, operating under the moniker Victor, paces his revenge slowly and evenly, torturing the man with psychological warfare before his eventual strike.
RELATED: 'Dead Man Down' Star Colin Farrell Is Feeling Lucky — PICS
The prolongued vengeance ploy, which kicks off en medias res and extends throughout the film, is the real mess of the show. Even with the capable Farrell struggling with a clawing grief over the murder of his family, the story fails to engage. Laszlo's slow rampage through carboard cutouts, like Howard's gangster Alphonse and Dominic Cooper's good-natured low-level crook Darcy, anchor the drama down to a sleepy, stale stature, allowing gasps for breath only when we retreat to some of the more sparkling inspections of Laszlo's grim, lonely survival.
To say that the scenes of Farrell eating Chinese food alone in his apartment — or wading aimlessly through his day to day beyond the confines of the crime ring — are the most exciting elements of the movie might seem a bit peculiar. Though not without its own share of holes, however, Farrell's slow escalation alongside Noomi Rapace is what gives Dead Man Down any life force at all.
RELATED: 'Dead Man Down' Trailer: Guns, Guns, and More Guns
Rapace, as an emotionally destitute car accident victim, witnesses one of Farrell's string of murders and blackmails him into killing the man who doomed her to the horrible handicap she now knows. Don't worry, she can walk just fine, and she's in perfect health. She's just got a couple of scars on her face. By our universe's terms, she's still irrefutably beautiful, but Dead Man Down seems to think one or two scratches around the eye would be enough  to fate Rapace with crippling solitude… not to mention a swarm of neighborhood kids who vandalize her apartnment door and throw rocks at her with periodic shouts of "Monster!" Suspending your agitation here will take supreme levels of self-discipline, but if you're willing, you might get to one of the film's more shining aspects.
Fans of Farrell and Rapace might find a handful of charm in the tortured pair's slow hike to camaraderie. With Farrell operating from the detached lone wolf with a golden heart buried beneath mounds of soiled pain, and Rapace playing the dangling-by-a-thread victim to the world, a few dozen eye rolls come with the territory. But hey, we forgave it in Drive, and the slow-burning vigor fueling Farrell and Rapace's journey might just even work if embedded in a stronger overall story.
Lazslo's visits to the small, quaint apartment Beatrice (Rapace) shares with her French-speaking mother, a perky Isabelle Huppert, are quietly delightful. His jagged attempts at building some semblance of a social rapport with his blackmailer-turned-ladyfriend are interestingly tender. Though far from pristine, there's a grim beauty to the Farrell/Rapace story that's almost intriguing enough to make you wish that you could save it from this heap and inject it into a better overall script. Almost — even these high points of Dead Man Down don't warrant more than a passing nod. The good is definitely in there somewhere, but is hardly worth all the muck you have to wade through to reach it.
2/5
What did you think of the film? Let Michael Arbeiter know on Twitter @MichaelArbeiter.
[Photo Credit: Film District]
---
From Our Partners:


40 Most Revealing See-Through Red Carpet Looks (Vh1)


15 Stars Share Secrets of their Sex Lives (Celebuzz)