'Dead Man Down' Trailer: Guns, Guns, and More Guns!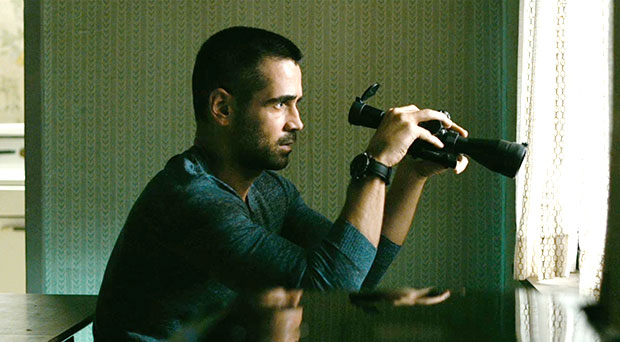 Turns out Dead Man Down and fellow 2013 thriller Gangster Squad have plenty in common: Both promise action-packed excitement, both follow protagonists facing off against a crime boss big bad, and both have suffered from incredibly bad timing.
Back in July, following the Dark Knight Rises theater shootings in Aurora, Colo., Warner Bros. announced their Ryan Gosling-headlined shoot-'em-up gangster flick would be delayed for reshoots. (One scene in the film featured, unluckily, a movie theater massacre.) And in December, following the Sandy Hook Elementary tragedy in Newtown, Conn., FilmDistrict delayed promotion of the violent Dead Man Down, which stars Colin Farrell as a hit man hired by a woman (The Girl With the Dragon Tattoo's Noomi Rapace) to kill his crime lord boss (Terrence Howard).
But Dead Man Down appears to have more in common with Gangster Squad than poor timing — following their respective delays, both films depended on audiences' short-term memories, releasing gun-heavy trailers. The spot for Farrell's March 8, 2013 thriller, embedded below, even makes liberal use of the weapon money shot.
Still, Dead Man Down's trailer does have a softer side — anyone else catch the Opening Act poster behind Farrell's character? Oh, memories!
[Image Credit: Film District]
More:
Colin Farrell and Noomi Rapace to Star in 'Dead Man Down'
Colin Farrell Talks 'Seven Psychopaths' and Exposing Movie Violence
Awkward! The Most Poorly Timed Movies in History

'American Idol' Winner Hospitalized After Head-On Car Crash

20 Hottest Bikini Bodies of 2012: Katy Perry, Miley and More!