Death By Éclair: How Paul Rudd Almost Killed Leslie Mann on 'This is 40'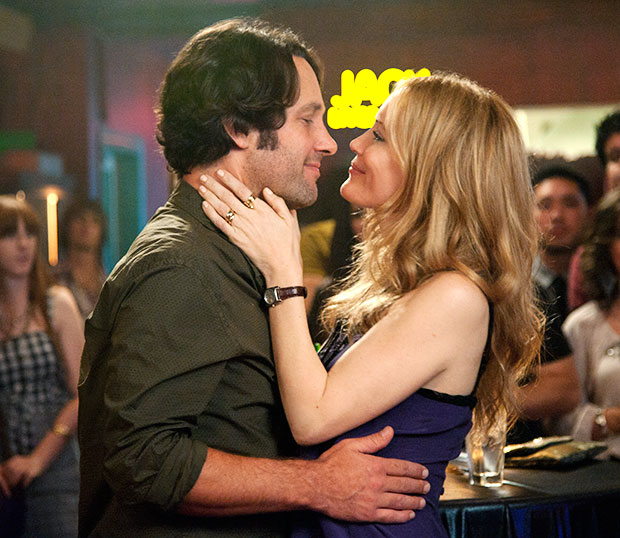 If you're going to die on the set of a movie, being smothered by an éclair and Paul Rudd's mouth is without a doubt one of the best ways to bid adieu. However, This is 40 leading lady Leslie Mann reveals that her brush with death while filming the R-rated flick was actually quite scary.
"I felt like I couldn't breathe, like I would die," Mann says of the incident, which happened while filming one of the movie's funniest scenes. SPOILER: She's okay! (And for what it's worth, Rudd promptly apologized for almost murdering his on-screen wife.)
Mann and Rudd's Knocked Up-inspired characters, Debbie and Pete, attempt to rekindle the flame in their marriage with a romantic hotel getaway — complete with a luxurious pool, lavish suite, and a decadent medical marijuana cookie. To curb their munchies, the couple orders every delicious dessert on the room service menu. The result? A scene that was both hilarious to watch and dangerous for those involved.
Check out our full interview below to learn more about the dessert-loving stars' day of binge eating and why milkshakes are just like bowling. Plus, just how similar is the character of Pete to This is 40 creator/director Judd Apatow? In the film, Pete threatens to hit a disgruntled Melissa McCarthy with his car after she insulted his wife. Would Apatow do the same for Mann, his real-life lady? Her answer may surprise you!
You can catch all the hilarity of This is 40 in theaters Friday, Dec. 21.
Follow Leanne on Twitter @LeanneAguilera
[Photo Credit: Universal Pictures]
MORE:
This is 40 Hollywood.com Review
'This Is 40' Star Paul Rudd on Maude Apatow: '[I'll] Never Be That Good' — EXCLUSIVE
'This Is 40': These People Keep Talking About Their Sex Organs — RED BAND TRAILER

'The Hobbit' Cast: A Who's Who New Character Guide (Moviefone)

'Les Miserables' Unscripted: Hugh Jackman, Anne Hathaway On Singing And Being Modest