Derek Haas Talks Leaving 'Focus Groups, Budgets, Set Pieces' in the Dust for 'The Right Hand'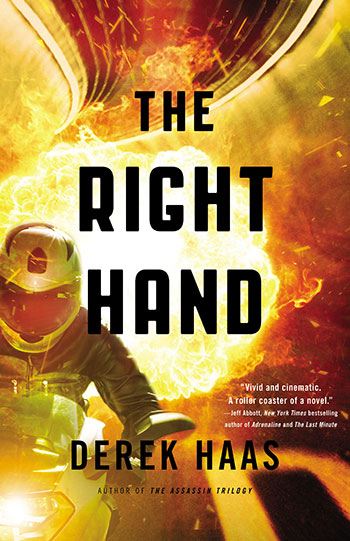 It would be easy for a screenwriter like Derek Haas to stick to one type of movie and grind away, writing it over and over and over again throughout his career. In a job that demands creative output, it's not unheard of. But that's far from the game plan that Haas has laid out for himself, as evidenced by the a breadth of work that includes blockbuster movies (Wanted, 3:10 to Yuma — both co-written with writing partner Michael Brandt), indie dramas (The Double), and a hit TV show (NBC's Chicago Fire). Along with his onscreen work, Haas also dabbles in prose, having penned three novels (The Silver Bear, Columbus, and Dark Men) with a fourth, The Right Hand, hitting shelves this week. For Haas, penning a book is a vacation from the demands of Hollywood.
"You don't have to worry about focus groups, budgets, set pieces, or someone telling you you the main character needs a dog to be more likable," says Haas. "All of the s**t you have to do in movies. It's nice because you can let your mind go. I could jump points of view or give the thoughts of the characters. All of those things make it exciting to write prose."
The Right Hand follows Austin Clay, an intelligence operative who takes on the missions the American government would rather not acknowledge as its own ("The left hand can't know what the right is doing"). While tracking down a missing officer in Moscow, Clay's mission leads him to a young woman who harbors evidence of an elaborate conspiracy inside the top tiers of U.S. government. His investigation leads the spy down a rabbit hole and into a heap of danger — one that he's more than capable of shooting, knifing, or punching his way out of when he's on his toes, but dangerous still. For his central relationship, Haas was inspired by the Japanese film series Lone Wolf and Cub, while the espionage angle came from real life encounters with U.S. spies.
Around 2000, in the early days of their screenwriting career, Haas and Brandt researched a movie for Universal that gained them access to members of the FBI and Quango. "We were working on a thing that an FBI agent had written that they wanted us to work with the FBI agent to polish up," says Haas. "It was called HRT, a division of the FBI called the Hostage Rescue Team." While the movie eventually fell apart after the events of September 11, one particular detail of the spy's life stuck with him. "The spy told us that, ten years earlier, he was in charge of executive directives. Executive directives were when the president signed a document allowing someone to break the law of another country. He said, 'If people knew when I held this job, I would get killed.' And you don't know when you're getting bullsh**ted, but it sounded awesome to me."
Haas and Brandt's international thriller may not have panned out — they were later asked by Universal to pen 2 Fast 2 Furious, which the then-unproduced writers turned down before their agents demanded they take the movie, as it was to be a surefire hit ("Greatest advice we ever got.") — but it planted the seeds that eventually became The Right Hand. After years banging out scripts, Haas says writing a novel didn't involve much of a learning curve. "Because I write in similar genres for movies and books, the same kind of parallels apply. The muscles that are going to cause people to sit on the edge of their seat are the same to get them to flip pages when they're reading a book. I learned a lot from movies about pacing, getting in and out of scenes quicker."
Haas likens a screenplay to a blueprint from which a director can craft a visual scene, whereas prose is a playground for language. "You can repeat motifs, words [can] act as a percussive beat as [the audience] reads it," says Haas. "There is one scene in The Right Hand where all bets are off and he's going to free this guy from a car and he's got two guns in his hand. And I keep telling you how many bullets he's fired as he's going. It's like a musical score. The rhythm gets faster and faster as he takes out the Russian operatives.
Amidst his many other projects (including the long in development Wanted 2, which the author was happy to spill to us some details), Haas completed The Right Hand early this year, paving the way for the well-timed announcement that the thriller would be adapted as a movie by producer Scott Stuber and his old friends at Universal. "I think when it appears to the public and it happens so fast… I actually finished the book last February, and I let our agents know that the manuscript was done, if they wanted to start, at least, checking to see if a Hollywood studio was interested."
As The Right Hand is Haas' baby, he and Brandt made sure their contracts for bringing it to screen wouldn't end in a Frankenstein's Monster of the book, with contract stipulations that give them final say on if anyone can rewrite their drafts. That said, Haas is aware that he needs to be careful about working with his own material. "If I did it by myself I'd be way too precious," says Haas. "By having Michael, an incredible writer — and we have adapted other people's books — I know he'll be ruthless. Which is what it requires because it's a different medium. My next step is, I have to put the book aside and treat it like someone else wrote it and not get defensive. What's going to make the best movie."
Who could take on the Austin Clay role? Haas isn't there yet, as the writer imagines a particular actor when writing new characters for movies, TV, or his novels. "With Austin Clay, I pictured the embodiment of this guy," says Haas. Clay is a 30-year-old spy who is keen, witty, and deadly when necessary — but even when it comes time to translate him to screen, there is no telling how the character will evolve. "We wrote 3:10 to Yuma. As originally conceived, Charlie Prince, Russell Crowe's right-hand man, was a big, strapping, Old West gunslinger. And then they cast Ben Foster. We realized it was awesome because he was playing against type. We called him 'The Quiet Storm.'"
The Right Hand is an original story overflowing with mood — not the easiest sell for Hollywood. But thanks to a book trailer that Haas commissioned himself (see above), his spy novel was the subject of a bidding war for producers, not to mention everyone online who has crossed paths with the video. Recalling his own past doing pro bono advertising work (His pitch: "Let us go crazy and you'll get an account for nothing."), Haas reached out to friends at an effects company who set him up with Matt Egan, an eager young director who constructed a trailer that turned the essence of The Right Hand into a 47-second video. "I knew that they couldn't shoot footage from the book, but the trailer should embody the spirit of the book. And so, Matt came back and had some visual storyboards and I can't believe they did it all. It got a lot of people's attention in Hollywood. People in Hollywood are looking for something that catches their eye that is intellectual property. That trailer helped. It's why comic books have done so well over the last ten years." Haas can't explain every element in his book trailer, but he loves it. "I thought the Medusa thing was so weird."
Haas is looking forward to his next film projects, The Right Hand adaptation included, but he still has plenty of ideas for future installments of his book series. "I don't want to give away the ending, but it's written in such a way that, hopefully, we'll see this character again," says Haas. The author even hints that the Austin Clay missions may lie in a larger universe that encompasses his previous efforts. "One of the things I've admired about [Stephen King] is, he'll interlock stories," he explains. I wrote three books about a hitman named Columbus … and there's certainly a chance that the way Dark Men, the last Columbus book, ends, and the way The Right Hand ends, that we might see these two meet."
The Right Hand is out now in hardcover and e-book versions. You can read more of Haas work at his brilliant short fiction website, Popcorn Fiction.
Follow Matt Patches on Twitter @misterpatches
[Photo Credit: Mulholland Books]
More:
'Taken 2' Writer Talks Sequelizing, Says Success Means 'Taken 3' Is On — EXCLUSIVE
Wes Anderson on the Young Adult Fiction Books that Inspired 'Moonrise Kingdom'
'Meryl Streep Movie Club' Author Weighs in on the Actress' Best Movies