Did DreamWorks Steal the Idea for 'Kung Fu Panda'? (UPDATED)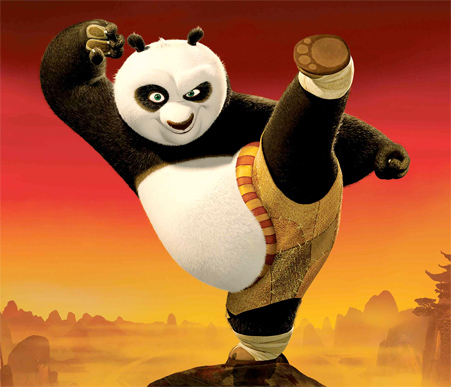 Self-described "writer-producer-teacher-philosopher" Terence Dunn is suing DreamWorks Animation for allegedly stealing his idea for Kung Fu Panda, and is now seeking over $1 million in damages. In the lawsuit, filed Tuesday in Los Angeles Superior Court, Dunn claims that he originally pitched the idea of a "spiritual kung-fu fighting panda bear" to DreamWorks studio execs back in November 2001. Dunn's kung-fu bear was "adopted by five animal friends in the forest (a tiger, a leopard, a dragon, a snake and a crane), whose destiny is foretold by an old and wise sage, Turquoise Tortoise, and who comes of age and fulfills his destiny as a martial arts hero and spiritual avatar."
Despite a series of alleged telephone conversations between Dunn and two DreamWorks execs, the studio ultimately decided to forego pursuing the concept in February 2002. However, within the span of a few months, according to the lawsuit, DreamWorks was in fact developing the Kung Fu Panda movie, to star Jack Black as the voice of the titular bear who is "substantially similar in all respects" to the character that Dunn had pitched back in 2001.
Kung Fu Panda went on to gross over $630 million dollars worldwide, with DVD sales, a straight-to-video sequel, a TV show and stage adaptation both in the works, and a planned 3D sequel (Kung Fu Panda: The Kaboom of Doom). Unfortunately, Terence Dunn, writer-producer-teacher-philosopher and alleged creator of the "Kung Fu Panda" concept, was left with nothing for his efforts. 
As much as this story begs the administration of snark, Dunn's story seems within reason. Dunn graduated Yale University in 1976 with a B.S. in Biology, where he also studied Philosophy and Chinese Studies, before going on to get his M.B.A. from Harvard Business School in 1980. He has been studying "Chinese, yogic, and healing arts" for over 36 years in the Los Angeles area, and has produced several instructional DVDs, including Tai Chi For Health. None of that makes him sound particularly kooky, as one might first assume.
He is also the founder and CEO of Zen-Bear, Inc. (sound familiar?) – a company whose trademark was registered back in January 1997. The martial arts panda bear concept goes back further – a YouTube video on his website featuring his "Zen-Bear" is dated from 2004, four years before the release of DreamWorks' Kung-Fu Panda.
However, the video itself wasn't posted to YouTube in its current iteration until this Tuesday – after the lawsuit was filed –  and the trademark for Zen-Bear, Inc. appears to have been canceled back in August 2008, just two months after Kung-Fu Panda was released, under "Section 8," which stipulates that "For a trademark registration to remain valid, you must file a Declaration of Continued Use with the U.S. Patent and Trademark Office between the 5-year and 6-year anniversaries following your trademark registration." Dunn does not appear to have done so.
We contacted Dunn to get his comment on this story, but at the time of this article's publication, he had not responded.
UPDATE: We got an email from "Terry" this morning (Friday June 3) with three new pieces of information regarding his lawsuit:
Although the original Zen-Bear trademark, which was used on apparel and sunglasses, expired in 2008 (registered in 1998), Dunn does have a current trademark on his revised Zen-bear artwork for media products like DVDs, computer games, etc.
"I decided to post the Zen-Bear animated logo that's copyrighted 2004 after my suit was filed so that people could see that I had a panda bear doing martial arts long before Dreamworks released Kung-Fu Panda on June 6, 2008.  The actual character design of my Zen-Bear character (along with the entire cast of animal characters–tiger, leopard, snake, crane, mantis, etc.) were created by myself and artist Dave Steen prior to 2004.  That animated logo, by the way, appears at the start of everyone of my Tai Chi for Health and Chi Kung for Health instructional DVD's, that have been top-selling in their genre."
"My attorney, Glen Kulik, who is perhaps the No. 1 plaintiff's attorney in entertainment law in Los Angeles (and therefore the country) specializing in "idea submission" cases, informed me that I had two years from the release of the film, Kung Fu Panda, on June 6, 2008 to file suit.  That 2-year period is known as a statute of limitation.  Thus my filing of my suit on June 1, 2010 was within that statutory window as planned."Dunn also had this to say: "Through my 37 years of training in (and teaching) Chinese Kung-Fu, Tai Chi Chuan, and Qigong, I have learned to take Sun Tzu's advice to heart:  '…Choose the time and ground of your battles.'"
While the YouTube clip of Dunn's animated Zen-Bear certainly has passing resemblance to DreamWorks' Kung Fu Panda, it's not clear that it's similar enough to the movie character to constitute a theft of intellectual property. Still, it seems pretty irresponsible of DreamWorks to have overlooked negotiating with Dunn, if indeed he was in talks with studio execs as he claims. Even though Dunn is only seeking around $1 million in damages – a drop in the bucket to a large movie studio – the suit could certainly damage Dreamworks' image and hurt the Kung Fu Panda brand.
What do you think? Does it sound like the martial-arts guru has a case? Check out the clip of Dunn's original Tai Chi panda bear below, and sound off in the comments.