The Pros and Cons of Director Francis Lawrence's Vision for 'The Hunger Games: Catching Fire'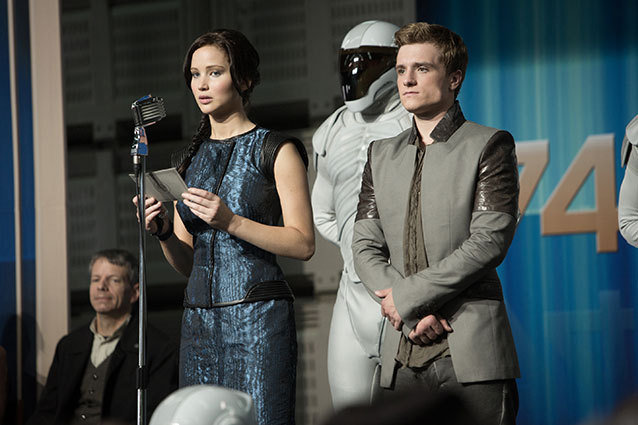 Lionsgate
It's not uncommon for a film series to employ various directors for different installments of the series — just look at the Harry Potter or Pirates of the Caribbean series — but with that decision comes a list of changes that not all fans will want to get behind. The director for the second installment of the The Hunger Games franchise, Francis Lawrence, sat down with New York Magazine and revealed a few of the changes he plans to make with Catching Fire. Here's our take on the pros and cons of his ideas for the film:

PROS

No More Shaky Cam
Lawrence says that there will be no shaky cam in Catching Fire, and that he thinks "a lot of people will be happy to hear that." Lawrence, you can't even begin to understand how happy that makes us. We'll be able to sit back and enjoy the film without wondering when our next vertigo spell will hit.
Better CGI
According to Lawrence, the effects in Catching Fire will be "phenomenal." Weta Digital, the five-time Academy Award-winning visual effects facility, was charged with the task of creating the monkey-mutt attack that is featured in the book. Weta previously did Rise of the Planet of the Apes and King Kong, so it sounds like we're in for some seriously good special effects.
CONS
More Focus on the Katniss-Peeta-Gale Love Triangle
I'm sure tweens across the nation will be squealing in their seats when they see more than their fair share of young love, but for the rest of us, it might be too much to handle. Even Katniss, the protaganist of the story, doesn't like to spend time thinking about her suitors. She'd rather be fighting for, you know, basic human rights for the people of Panem.
Less of Jennifer Lawrence's "Running Face"
So apparently there is something that Jennifer Lawrence isn't comfortable with: her running face in The Hunger Games. According to Francis Lawrence, she asked him to make sure that when she was running on screen, she wasn't making a "stupid face." C'mon, J-Law! There's nothing we love more than your hysterically confident facial expressions.
MIDDLE GROUND

A Long List of Well-Known Actors
Lawrence feels that having pedigree actors like Philip Seymour Hoffman (Plutarch Heavensbee in Catching Fire) and Julianne Moore (who won't be featured as President Coin until The Hunger Games: Mockingjay Part 1) only enhances the films. Yes, having big names can garner a larger audience and add an element of awe to the film, but at some point, doesn't it just become a little too much? The fans of The Hunger Games trilogy would still be fans if no-name actors were cast to play their favorite characters. 

We'll all just have to wait and see how Lawrence's vision for the film plays out when Catching Fire hits theaters Nov. 22.
More: 
'The Hunger Games: Catching Fire' Tickets Officially On Sale
The Official 'Catching Fire' Soundtrack Tracklisting
Julianne Moore Cast as President Coin in 'The Hunger Games: Mockingjay'
Follow @CaseyRackham  
Follow @hollywood_com
---
From Our Partners:

A Complete History Of Twerking (1993-2013) (Vh1)


15 Stars Share Secrets of their Sex Lives (Celebuzz)