Director Stephen Norrington Leaves 'The Crow' Remake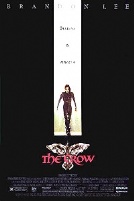 Stephen Norrington has exited the reboot of The Crow.
According to the writer/director, he's run into conflict with the film's new star — who's currently unknown to the public. Supposedly, the actor was excited with the vision that Norrington had for the project. But, after the director gave the script to Nick Cave to polish, said performer wasn't happy with the new direction. And now, Norrington is out.
"As I had gotten involved explicitly as a writer-director my exit was inevitable. I was bummed. I had developed a genuinely authentic take that respected the source material while moving beyond it, and Nick Cave came in and added more depth," Norrington told Mania.com. "I think the fans would have been pleasantly surprised."
Rumors emerged earlier this week that Mark Wahlberg was the unnamed actor who signed on for the remake. But, from the sound of Norrington's comments, Wahlberg's involvement may be just rumors. It appears the director thought Wahlberg would be a good fit.
"I will say I think Wahlberg could be cool if they take a gritty blue-collar approach," Norrington said. "He's a truthful actor. I think he could really ground the supernatural stuff."
Or, we could take that a different way and assume that Wahlberg is the actor, and Norrington is just frustrated with the situation. After all, he's now been involved with pre-production on The Crow for the past 18 months. That's quite a long time to be working on a film and not even get to the point of shooting anything. In these comments, he sounds exhausted with the project, in a more, "f*ck it, sure, Wahlberg would be good, I don't care anymore," sounding quote.
Considering that during the production of the original The Crow, a man was accidentally murdered (more specifically, lead actor Brandon Lee), maybe the studio should accept defeat and consider axing this project all together.
Source: Mania.com