'Dirty Dancing' Remake Delayed: Can Anyone Put Baby in the Corner?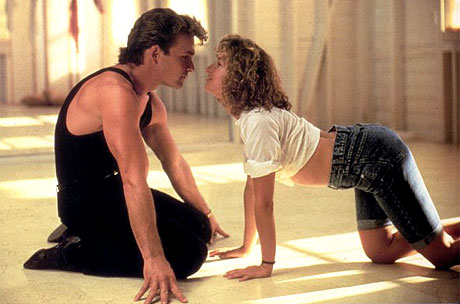 Mounting a modern version of the '80s classic Dirty Dancing was never going to be easy, with stars Patrick Swayze and Jennifer Grey leaving behind big shoes to fill in the lovable lead positions. But Hollywood is trying anyway — in August 2011, Lionsgate hired High School Musical mastermind and Newsies director Kenny Ortega to helm the film, slating it for the prime date of July 26, 2013. Now, according Deadline, the project has been put on hold, citing "casting reasons," as the impetus for the year delay.
Could Swayze and Grey's legacy be too strong, even for a group of talented, musically-inclined filmmakers? In the current climate of Glee, So You Think You Can Dance and the successful Step Up franchise, a Dirty Dancing remake made perfect sense. Producers even recruited Glee creator Brad Falchuk to pen the latest draft, giving it an edge that would fit right with its singing/dancing contemporaries. The only missing piece to a sweet sounding combination was the right duo to bring the choreographed romance to life. The search, it seems, is proving more difficult than expected.
The film has been taken off the release schedule for the time being, Deadline speculating that it could pop up again for 2014. The ill-fated 2004 semi-sequel Dirty Dancing: Havana Nights proved the difficulty in recreating the lighting in a bottle that was the original. Whether the right star and starlet pair is the solution or Dirty Dancing is simply an un-remakable movie is a question producers will be figuring out in the next year.
Follow Matt Patches on Twitter @misterpatches
More:
'Dirty Dancing' Remake Gets a Release Date
High School Musical's Kenny Ortega To Direct 'Dirty Dancing' Remake
'So You Think You Can Dance' Recap: Holly-woo!
[Photo Credit: Lionsgate]