Disney Buys Lucasfilm for $4B, New 'Star Wars' Movie Announced for 2015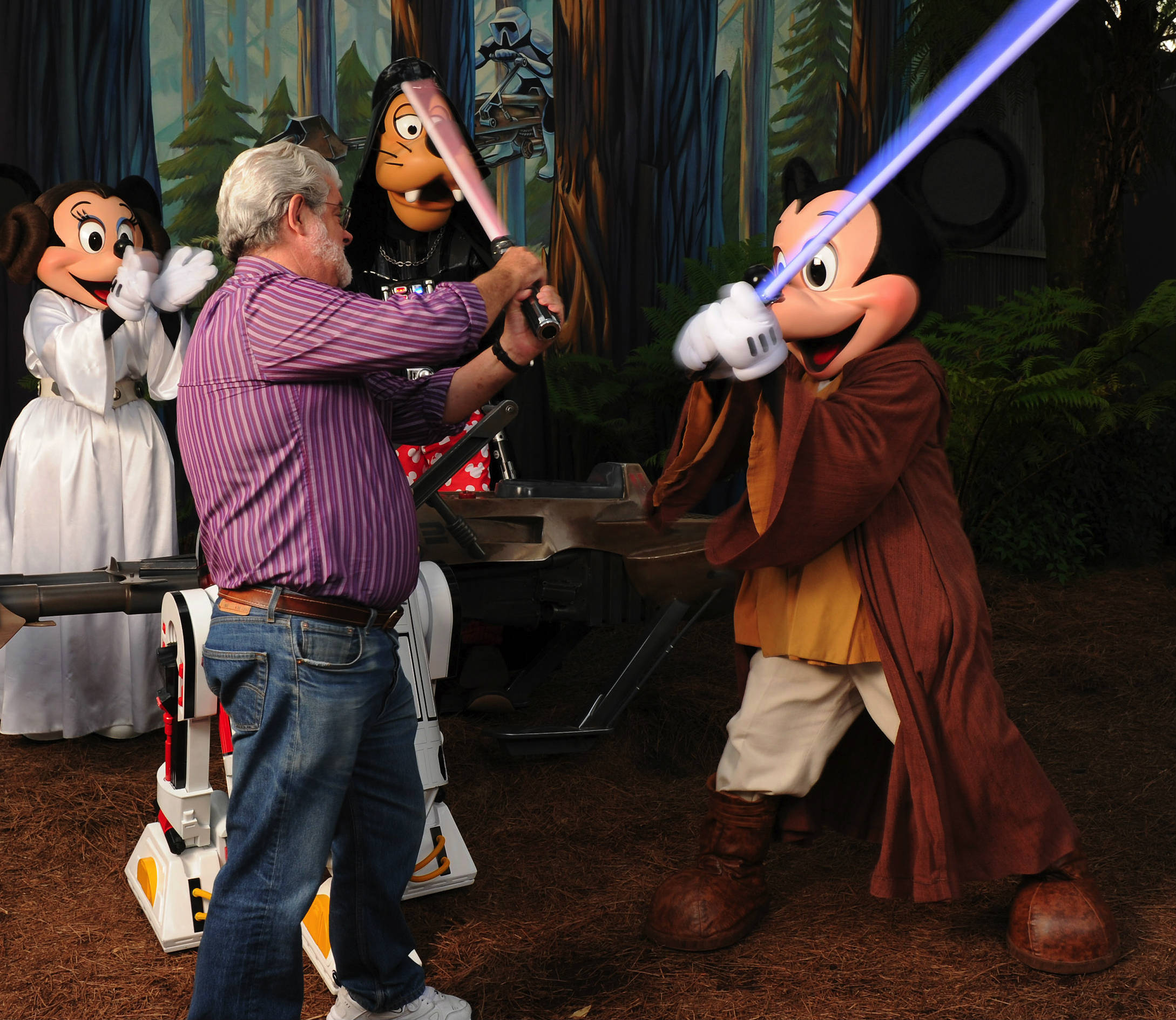 That disturbance in the Force you feel is millions of Star Wars fans crying out in joy. In the best post-hurricane news imaginable, Disney has just purchased Lucasfilm Ltd., venerable custodian of the Star Wars and Indiana Jones franchises, for a $4.05 billion cash and stocks deal. Kathleen Kennedy, who joined the George Lucas-founded company in June as co-chair, will be promoted to Lucasfilm president, reporting directly to Walt Disney Studios chairman Alan Horn.
Best of all, Disney has announced that a new Star Wars movie is actually in the works for a 2015 release. A press release from the studio states that the movie in question will be Star Wars: Episode VII, almost guaranteed to be a post Return of the Jedi-set project. That's very interesting, as the post-ROTJ Era has already been thoroughly explored in books and graphic novels considered canon by Lucasfilm. Will Episode VII involve previously established creations like Luke Skywalker, Han Solo, and Princess Leia? Or will it take place in a distant future with all new characters. No matter what, let the collective geekgasm commence!
As if this wasn't enough to scramble your brain like a Jedi mind trick, Disney says that even beyond Episode VII "more feature films [can be] expected to continue the Star Wars saga and grow the franchise well into the future." A conference call with Disney investors further revealed that the plan is to release a new Star Wars movie "every two to three years," including Episodes VIII and IX. Apparently, part of Disney's Lucasfilm acquisition deal was a full treatment for a new Star Wars trilogy.
However, though Disney will technically possess the rights to the Indiana Jones franchise, the studio has decided not to touch that particular property. At least for the time being. The fact is,
Star Wars
is ready-made for endless permutations, with new characters played by new actors. The Indiana Jones franchise, on the other hand, is inextricably tied to Harrison Ford. Without him, you've got nothing.
The merger of the two companies hardly comes as a surprise. Disney and Lucasfilm have partnered for years on such events as Star Wars Weekends at Disney's Hollywood Studios in Florida and for the sale of Star Wars-themed Disney merchandise. Along with Lucasfilm Ltd. itself, the merger also means Disney will acquire visual effects powerhouse Industrial Light & Magic and sound design firm Skywalker Sound.
"Lucasfilm reflects the extraordinary passion, vision, and storytelling of its founder, George Lucas," said Robert A. Iger, Chairman and Chief Executive Officer of The Walt Disney Company in a statement. "This transaction combines a world-class portfolio of content including Star Wars, one of the greatest family entertainment franchises of all time, with Disney's unique and unparalleled creativity across multiple platforms, businesses, and markets to generate sustained growth and drive significant long-term value."
George Lucas, Chairman and CEO of Lucasfilm, also says in a statement, "For the past 35 years, one of my greatest pleasures has been to see Star Wars passed from one generation to the next. It's now time for me to pass Star Wars on to a new generation of filmmakers. I've always believed that Star Wars could live beyond me, and I thought it was important to set up the transition during my lifetime. I'm confident that with Lucasfilm under the leadership of Kathleen Kennedy, and having a new home within the Disney organization, Star Wars will certainly live on and flourish for many generations to come. Disney's reach and experience give Lucasfilm the opportunity to blaze new trails in film, television, interactive media, theme parks, live entertainment, and consumer products."
Is this the best news that Star Wars fans could have expected or what?
[Photo Credit: Todd Anderson/Disney via Getty Images]
More:
Star Wars 35th Anniversary: 35 Changes from 1977 to 2012
'Star Wars: The Clone Wars' Recap: Onderon Strikes Back
We Can't Get Mad at George Lucas for Changing Star Wars
From Our Partners:

Exclusive New 'Twilight: Breaking Dawn' Trailer!
(Moviefone)

(Moviefone)