Winter Is Coming in the New Trailer For Disney's 'Frozen'
Winter is coming. No, not for the citizens of Westeros, but for us. And the arrival of winter brings with it the holiday movie season, where theaters are filled with dozens of heavy, emotional films all clamoring for the Academy to notice. Luckily, the kind folks at Disney have decided to lighten things up with their new movie Frozen, which will hit theaters just before Thanksgiving. 
Based on Hans Christian Andersen's The Snow Queen, the film centers around Anna (voiced by Kristen Bell), who must team up with Kristoff (Jonathan Groff) and a wisecracking snowman named Olaf (Josh Gad) in order to find her banished sister, Elsa (Idina Menzel), and save the kingdom of Arendelle from a never-ending winter. It turns out that Elsa has the ability to control snow and ice, and accidentally cursed the kingdom after she banished herself into an ice palace. And there's a giant snow monster in there for reasons the trailer does not reveal.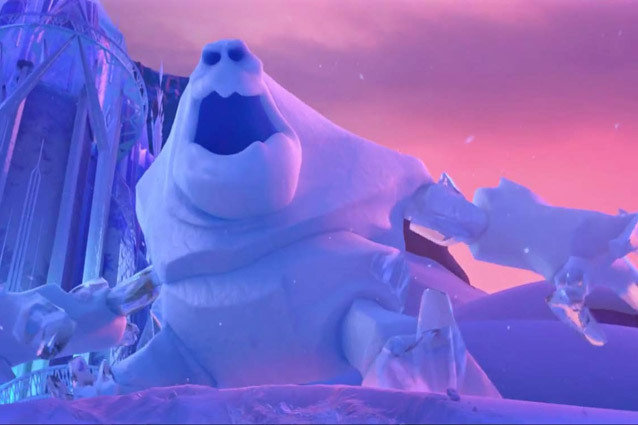 Disney
The trailer promises the standard Disney fare — pretty scenery, magic, an entertaining yet slightly annoying sidekick, and a fiesty hero on a quest to save the day. Nothing revolutionary, sure, but harmless fun nonetheless. Visually, it seems very similar to 2010's Tangled, which hopefully means that the film will have a bit more depth and heart than what's shown. However, our biggest issue is that the trailer doesn't feature any songs from the film's score, which is surprising considering how many of the actors come from musical theater backgrounds. In fact, four of the main cast members – Menzel, Groff, Gad, and Santino Fontana, who voices Prince Hans — have all won or been nominated for a Tony Award, so it would have been a great opportunity for Frozen to show off some original music instead of giving so much screen time to Olaf the snowman. 
Check out the trailer above and catch Frozen when it arrives in theaters on November 27. 
More: 
What Does Disney's 'TomorrowLand' Have To Do With Nikola Tesla?
Kristen Bell Joins 'Parks and Rec' As Leslie Knope's Newest Enemy
Watch Disney's First 'Frozen Trailer
---
From Our Partners:


A Complete History Of Twerking (1993-2013) (Vh1)


15 Stars Share Secrets of their Sex Lives (Celebuzz)