Do We Have Too Many Princess Musicals on Broadway Already?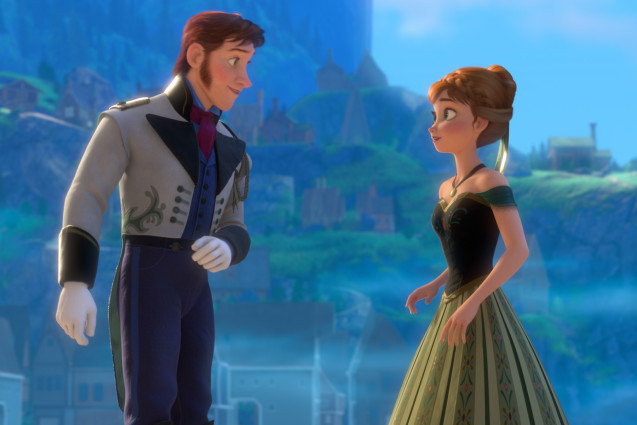 Disney
After becoming the highest-grossing Disney film since The Lion King, positioning itself as the front-runner for the Best Original Song Oscar, and taking home a Golden Globe for Best Animated feature, Frozen could next conquer the Great White Way. Disney CEO and Chairman Bob Iger confirmed that the studio is turning its latest film into a stage musical. But don't rush to purchase your tickets just yet; according to Iger, they are still in the very beginning stages, and its likely to be some time before the finished show opens (if on Broadway at all). He's also hoping that a lack of time frame will help the show's creative team transform the movie into a full-on spectacle, saying, "We're not demanding speed, we're demanding excellence."
The news doesn't come as much of a surprise, considering the massive success that Frozen has enjoyed. The fact that the film has managed to entice audiences of all ages will be an asset to the stage show, as will its ability to appeal to boys as well as girls. Typically, studios have worried about princess films isolating male audiences, but between the story's universal message about the bond of family and the combination of a wise-cracking snowman and a charming mountain man sidekick, the film has avoided that problem. This means that the stage show should have little trouble selling tickets, as parents will be less hesitant about paying the higher Broadway prices if they know that their children are guaranteed to be entertained. The musical's profile will also be boosted by new songs from the film's composers, Robert Lopez and Kristen Anderson-Lopez, as Lopez is well-regarded in theater circles for his work on the hit shows Avenue Q and Book of Mormon, which will help the show gain attention from theater fans who would normally avoid a Disney show. 
Which means the only real issue that the team behind Frozen has to worry about, then, is the recent influx of princess-based musicals, which may steal some of the attention and audiences that they're hoping for. Rogers and Hammerstein's Cinderella has been running for almost a year now, and despite not being a Disney production, has cornered the princess musical market quite well. However, it is about to get some competition from Aladdin, which will open in March, and between the Disney name, the charming male protagonist and the smart, sassy Princess Jasmine, it will likely be the main attraction for anyone coming to New York in search of fairy tale magic. Aladdin will be able to appeal to boys in a way that Cinderella does not, which means that as long as the reviews are positive, the show should run for quite some time, and make things difficult for shows attempting to appeal to the same audience. 
In addition to Aladdin, there's an upcoming musical adaptation of the 1998 film Ever After, which is another retelling of the Cinderella story. Although it was originally planned to open in the 2013-2014 season, the show is still currently in the workshop stages, which means it could still pose a threat to Frozen, depending on when each team decides to mount their respective production. Kathleen Marshall is attached to direct Ever After, which gives it some legitimacy in the theater circles, which could hurt Frozen, even though it has the more recognizable name. 
There's also competition coming from underneath the Disney umbrella as well. The studio has acquired the rights to transform William Goldman's novel The Princess Bride into a stage show, which is also currently in the early stages of development. This means that the two could be ready to open around the same time, and since their audiences are bound to overlap, as both stories appeal to multiple generations and have enough action and excitement to appeal to both genders, they would be in direct competition with one another. It's not unusual for Disney to have multiple productions running on Broadway at the same time – Aladdin will join The Lion King and Newsies, both of which have proven to be extremely popular – but they are always different enough to stand out from one another. However, mounting two princess musicals at the same time would place Frozen and The Princess Bride in direct competition with one another, which would be bad for Disney. Of course, there is the possibility that The Princess Bride will be a straight play rather than a musical, which would swing things in Frozen's favor, but it still doesn't cancel out the similarities. 
All of which means that even though it was only a matter of time before Frozen made its way to Broadway, that doesn't guarantee it automatic success. Despite being one of Disney's most bankable titles, The Little Mermaid closed after only a year, and didn't manage to recoup its investment during that time, and Frozen could be in danger of the same fate. With the additional competition from so many other princess-focused musicals, Disney will have to have the right mix of time, talent and luck that has helped make its other shows such a big success. Might we suggest they consider getting Josh Gad to reprise his role as Olaf the Snowman?