'Divergent' Inspires the Best and Worst Cliques in Pop Culture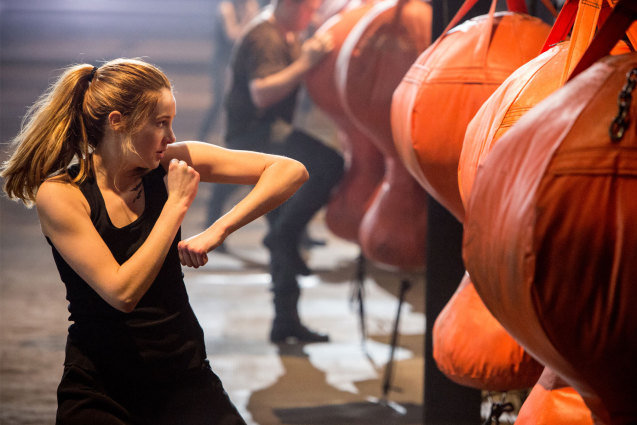 Summit Entertainment
As any teen  knows, cliques are the bedrock of  the high school social system, and the upcoming film Divergent has it's own spin on old high school cliche. In the series, a future version of Chicago is split up into five different factions, and main character Tris (Shailene Woodley) finds herself in Dauntless, the warrior class. We decided to take a look back at various cliques and groups across the cinema and television landscape, and grade the membership experience for each. Just try and hold back the vicous flashbacks to high school at bay.
"Dauntless" (Divergent)
The Group: In Divergent, Dauntless is the warrior faction of a dystopian future Chicago. Members are tasked with protecting society against outside attacks. 
Requirements: Jump off a building, go through training, fight your fellow Dauntlesians.
Exclusivity: Moderate. A fifth of the population winds up in Dauntless. All you have to do is fight a dog in a dream test and you're in! Passing the initiation round to become a full member is another matter entirely, though.
Rating: 8 out of 10. Sure,  you have to be a part of an oppressive society where your path in life is chosen via aptitude test, but at least you get to play with knives and stuff.
"The Expendables" (The Expendables)
The Group: Somehow managing to stretch a midlife crisis into their 60s, Barney Ross (Sylvester Stallone) and a bunch of his burly tough guy friends have started a mercenary group that has cornered the market in traveling to foreign countries to shoot at locals. They sometimes butt heads, but at the end of the day, they're a family.
Requirements: Advanced age, years of military training, love of all things black and  leather, muscles.
Exclusivicity: Decent. You certainly have to be a man of a certain age to get in and survive longer than a day since younger members tend to be bullet sponges. Otherwise, just get a couple semi-successful action movies under your belt and Stallone won't ever stop asking you to join him.
Rating: 8 out of 10. Getting together with your buddies and blowing up a couple of refugees seems like a nice way to spend your golden years.
"The Plastics" (Mean Girls)
The Group: Garbed in pink, these girls run the local Illinois high school like a totalitarian regime. They're the most popular girls in school and everyone knows it. Their leader/dictator Regina George (Rachel McAdams) keeps the school under her thumb with the multitude of secrets contained in her "Burn Book."
Requirements: Be rich, be subservient to Regina, have little to no self-worth … or be weird enough to become a novelty (Lindsay Lohan).
Exclucivity: Very high. For the vast majority of high schoolers, the Plastics clique is impregnable. If you can somehow manage to break into their group, cherish it and pray to whatever god you worship that you don't end up in the Burn Book. 
Rating: 6 out of 10. Honestly, there are some definite perks to being a Plastic, but is it really worth your integrity? (If you decide yes, then 9 out of 10).
"The Heathers" (Heathers)
The Group: The original Mean Girls, The Heathers were a group of three girls who ruled their school while Lohan was still in diapers. 
Requirements: Be named Heather, be willing to change your name to Heather, be rich.
Exclusivity: Very High. It's going to take a ton of work to make your way to the top of the high school food chain. You also have to be named Heather, which makes becoming a true member all but impossible if you're parents didn't have enough foresight. 
Rating: 5 out of 10. Docked points for the proclivity to insight killing sprees.
"The Geeks" (Freaks and Geeks)
The Group: A bastion for the hopless and the strange, the Geeks are the lowest rung on the high school ladder. But what they lack in popularity, they make up in multi-sided dice.
Requirements: Be nerdy, possess an intimate knowledge of Dungeons & Dragons, love Steve Martin, pine for the popular gals.
Exclusivity: None. If you find yourself on the fringes high school society, the Geeks will eventually pick you up and add you to their collective. Picture them as a big street-sweeper of acceptance, with gawdy sweaters.
Rating: 9 out of 10. With the Geeks, you can just be yourself. Sure, not being popular stings, but friends that understand your obsession with Star Wars make for the world's best ointment.