'Divergent' vs. 'The Hunger Games'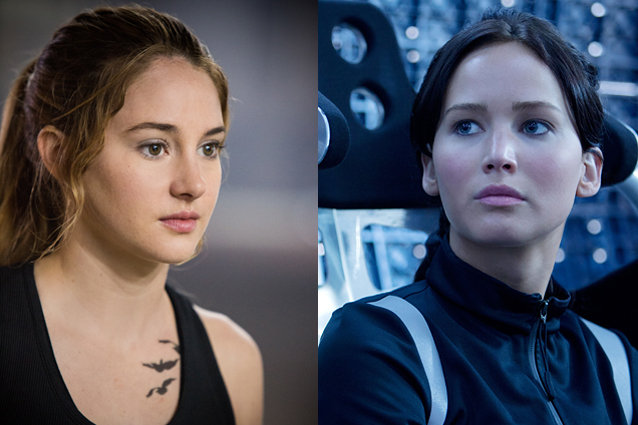 Summit Entertainment
It's impossible not to notice the similarities between Divergent and The Hunger Games. Both feature dystopian futures and strong female protagonists. Both are based on best-selling young adult book series and are the creation of female authors. Each features young people in very real danger where things don't always work out for them.
While The Hunger Games has become a phenomenon in both publishing and films, helping to catapult Jennifer Lawrence to superstardom, Divergent is closer to the beginning of the process. The movie's star, Shailene Woodley, can only hope that her film enjoys the same level of success. The Hunger Games might be the veteran and Divergent the newcomer, but which is better?
The Heroines
Katniss Everdeen, the hero of The Hunger Games and Lawrence's alter ego, has quickly become one of the most recognizable characters in film and literature. A reluctant hero if ever there was one, Katniss uses the skills that her father taught her to provide food and protect her family, and to become The Girl on Fire who galvanizes a repressed nation. Beatrice "Tris" Prior has no immediate skills, but she is smart, resourceful and, you know, divergent. Unlike Katniss, Tris chooses her path to some extent… even if she doesn't fully realize what that means for her future. Advantage: The Hunger Games.
The Boys
Katniss has two boys that would die for her in Peeta Mellark (Josh Hutcherson) and Gale Hawthorne (Liam Hemsworth). While they are both allies to the female lead, and provide help along the way, they can also get in her way… or at least her mixed feelings about them can. Divergent's Tris finds her true love in Tobias "Four" Eaton (Theo James), who trains her and helps her lead the resistance against their oppressors. Four is far more likely to kill for Tris than to die for her. Advantage: Divergent.
The Villains
Donald Sutherland's President Snow is a megalomaniac dictator who uses threats and violence to keep an entire nation subservient to him and the ruling class of the Capitol. He pits young people against one another in death matches to remind his citizenship what will happen if they step out of line. In the upcoming The Hunger Games: Mockingjay films, Julianne Moore joins the cast as President Alma Coin, who on the surface appears more concerned for the needs of the people but in reality might be even more unfeeling than Snow. Divergent's Jeanine Matthews (Kate Winslet) is a dangerous genius, who's willing to drug the population and start a war to consolidate her power. Still, she's just trying to control Chicago; Snow and Coin have the whole country under their thumbs. Advantage: The Hunger Games.
The Setting
In The Hunger Games, the United States has been divided up into 12 Districts, each obedient to the Captiol and forced to pay penance for a failed rebellion that wiped out a 13th district. The citizens in Katniss' District 12 — which is basically present day Appalachia — are even poorer than the rest of the country. The Hunger Games are the government's way of keeping the populace in fear by making two youngsters from each District fight to the death until just one remains. Katniss volunteers for the Games only as a way to save her younger sister. Divergent focuses solely on what was once Chicago, with the city divided into five "factions," each with a distinctive personality type. At 16, teenagers have to decide whether to stay with the faction that they were born to or to move to the one that matches their personality. Tris elects to leave the selfless Abnegation and join the more aggressive Dauntless, unaware of a building war that will bring her directly into conflict with her family. While Chicago has changed, in both Veronica Roth's books and the movie, several Windy City icons (Willis Tower, Navy Pier, etc.) are used as locations for the action. There's something fun about having something recognizable in the dystopian future. Advantage: Divergent.
There is plenty to like about both stories and there's nothing wrong with having more movies that feature strong-willed female protagonists. It remains to be seen if Divergent can reach the heights that The Hunger Games has already reached, but we have hope. Part of what makes Tris an effective hero in Divergent is the fact that people always underestimate her… so don't make that mistake.
Divergent hits theaters March 21. You can check showtimes and purchase advanced tickets at Movietickets.com.