'Django Unchained' Gifts Us Bloodshed, Laughs, and Crazy Leo DiCaprio for Christmas — TRAILER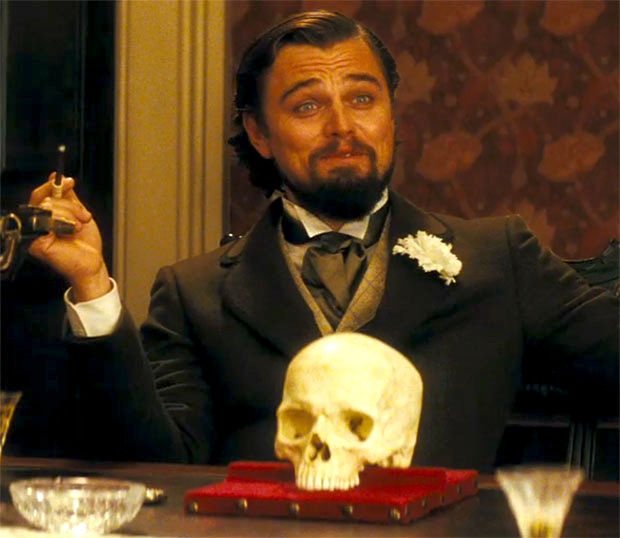 "I spent my whole life surrounded by black faces. I only had one question: why don't they just rise up and kill the whites?" – Calvin Candie (Leonardo DiCaprio) in Django Unchained.
Political correctness has never been part of Quentin Tarantino's filmmaking agenda. His characters deliver profanity-laden monologues, put bullets in each others' ends without thinking twice, and often harbor twisted agendas (Tarantino can have us laughing at Nazis in Inglourious Basterds, or cheering for The Bride's disturbing killing spree in Kill Bill). He doesn't shy away from the wild potential movies have to offer.
Based on his success at the box office, audiences are comfortable with Tarantino's unwavering passion for the extreme — but that his movies continue to surprise is a testament to his creativity. Take Django Unchained, Tarantino's spin on the Western that stars Jamie Foxx as a slave, gunning his way through the South in hopes of freeing his wife Broomhilda (Kerry Washington). Previous looks at the film have teased the director's knack for violence and comedy, but in the latest trailer (below) we get a real feel for how far Tarantino is going with his material. He wasn't kidding when he put Unchained into the title: the film juggles shootouts, brazen performances (especially from a gleefully sadistic Leonardo DiCaprio), and equally bold humor (from racial jokes to KKK komedy), all wrapped in a visual style that's very in-our-faces. Quite literally: few movies in recent memory capitalize on the close-up quite like Django.
Check out the new spot for Django Unchained, which arrives in theaters December 25, just in time to trump your five pairs of socks and $10 Starbucks gift card as the best gift of the holiday season. Watch the trailer in HD at Apple.
Follow Matt Patches on Twitter @misterpatches
[Photo Credit: The Weinstein Company]
More:
'Django Unchained' Star Jamie Foxx Tells Hollywood.com Tarantino Is a 'Hip-Hop Artist'
Comic-Con 2012: 'Django Unchained' Shows Off Bloody Fun with Oscar Potential