'Django Unchained': The Highs and Lows of a Tarantino Movie — TRAILER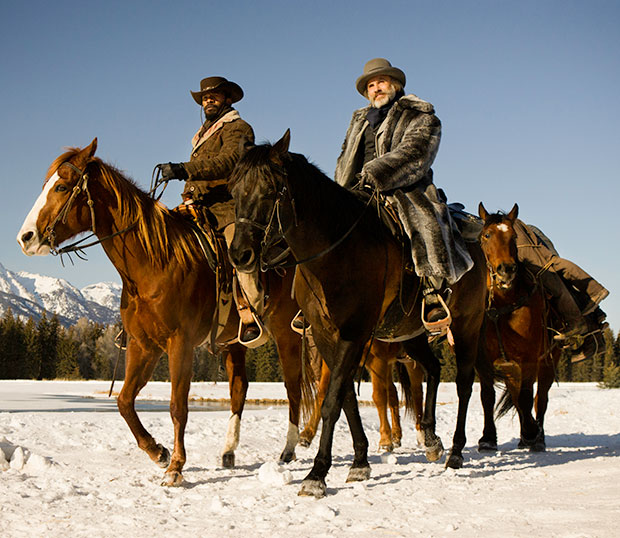 When Quentin Tarantino released Inglourious Basterds in 2009, it was the first time that people really began to challenge the status of Pulp Fiction as his finest film. Before Inglourious, the director collaborated with peers Robert Rodriguez, Eli Roth, Rob Zombie, and Edgar Wright on Grindhouse — a flick that was all style, pure flash. Tarantino's World War II ballad suggested a new somber sophistication. We'd seen facets of this in Pulp Fiction and Kill Bill: Vol. 2, but to comparably middling degrees. Inglourious Basterds was Tarantino's first foray into a new psychology of storytelling — one that seems to carry over in Django Unchained.
Of course, a Tarantino film is still a Tarantino film. As indicated by the new international trailer for the upcoming pre-Civil War epic, there is enough flash and style to satisfy the cravings instilled by our tastes for the director's traditional work. But the Inglourious softness and sincerity looks to envelop this movie. And a star like Jamie Foxx, capable of anything either end of this Tarantino spectrum can throw at him, will be the purveyor of this successful return to Inglourious' majestic form.
And there's a bonus to that: with Foxx and Christoph Waltz (a freed slave and a bounty hunter on a quest to rescue the former's wife) apparently handling the lower notes of the movie, Leonardo DiCaprio is free to run stark raving mad as wicked plantation owner Calvin Candie — a nefarious cross between Tennessee Williams and Auric Goldfinger. Within him will undoubtedly lie this movie's "Stuck in the Middle with You" scene, its Bonnie Situation, its five-point palm exploding heart technique. DiCaprio's character will bring the Tarantino that made us excited over Tarantino films in the first place; Foxx and Waltz will foster the Tarantino that proves that Tarantino films are still worth being excited over.
[Photo Credit: The Weinstein Company]
More:
'Django Unchained' Gifts Us Bloodshed, Laughs, and Crazy Leo DiCaprio for Christmas — TRAILER
Comic-Con 2012: 'Django Unchained' Star Jamie Foxx Calls Tarantino a 'Hip-Hop Artist'
Comic-Con 2012: 'Django Unchained' Shows Off Bloody Fun with Oscar Potential
'Django Unchained' Trailer: How to Sell a Tarantino Movie

12 Hot (And Horrifying) TV Nude Scenes

Hollywood.com's Holiday Movie Guide: Best of the Season!