'Django Unchained' Trailer: How to Sell a Tarantino Movie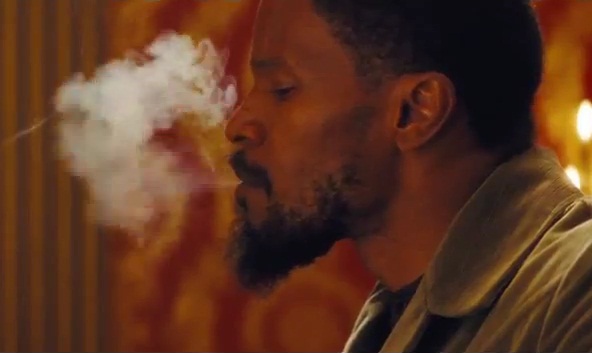 Ready for a rootin', tootin', gun-slingin', fast-paced trip through the lawless days of the Dirty South? Then you're ready for the Django Unchained trailer! BUT if you're ready for something completely different from all that, then you're ready for Django Unchained. Or so history might prove.
In 2009, Quentin Tarantino released Inglourious Basterds, arguably the director's best feature film to date. The story was sold to the public with the following premise: a ragtag gang of American Jews go Magnificent Seven against the Nazis through WWII-era Europe. What the world actually got was a more personal story, focusing heavily on the journeys of orphaned French Jew Shoshana (Mélanie Laurent) and meticulous sociopathic Nazi detective Hans Landa (Christoph Waltz). The film was not without it's people getting their heads baseball-batted, but it was much softer and more sophisticated than the highly stylized films of Tarantino past, like Pulp Fiction and Kill Bill.
But Pulp Fiction and Kill Bill are how you sell a Tarantino movie. And that looks to be what is happening in the Django Unchained trailer. In the pre-Civil War movie, Jamie Foxx plays title character Django, a freed slave who teams up with a bounty hunter (the great Waltz once again) to save his wife from the clutches of a dastardly plantation owner Calvin Candie (Leonardo DiCaprio). In the first assembly of footage from the film, there are guns blasting, quips dropping, and even a title card with the shameful tagline, "Django Is Off the Chain." Style over substance indeed.
But that's probably not what the movie is like. While Tarantino made the hyperstylized thing work in his first masterpiece Pulp Fiction, he has since cooled his jets, and has learned (as Inglourious Basterds proves) how to tell a calmer, more serious, and more intimate story. The mood of the trailer notwithstanding, that's probably what fans are in for with Django. But again, that doesn't scream "See this!" as much as a Pulp Fiction-esque trailer.
Tarantino might be cursed with his own early '90s image branding everything he makes. People might always hear his name attached to a project and assume that the film will be riddled with Blaxploitation music and people discussing cheeseburgers melodically. But the director has more in his holster than that. And if you can trust that enough to get past the moderately silly, grasping-for-Pulp Fiction's-audience trailer, then you'll probably be in for a great new movie in Django Unchained.
More:
'Django Unchained': DiCaprio & Foxx, Badasses of the Old West — PICS
'Django Unchained' Cursed? Fourth Star Drops Out of Quentin Tarantino Western
'Django Unchained' First Look: Leonardo DiCaprio & Jamie Foxx Are Old School Badass — PICS