Does James Franco Have the Charm for 'OZ'? — TRAILER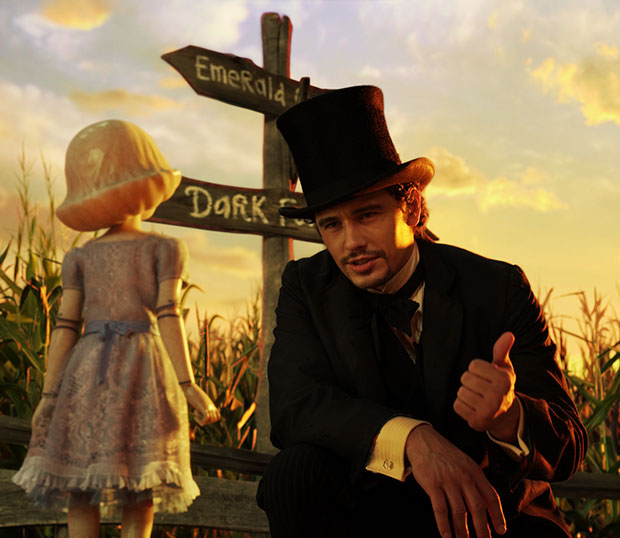 Sam Raimi's Comic-Con footage presentation of his new movie OZ The Great and Powerful raised our expectations, the sizzle reel utilizing the same stylized computer animation of Tim Burton's Alice in Wonderland to bring the vibrant world established in the 1939 Wizard of OZ into the modern age. Unlike Burton's drab take on the weird world of Wonderland, the first tease of OZ is bright and imaginative, Raimi taking full advantage of the fantasy world at his disposal.
Now, a full length trailer has landed online, keeping the imagery quotient high while revealing more of the prequel story Raimi set out to tell. The trailer follows "The Wizard" (James Franco), a former Dustbowl magician who finds himself in OZ after being whisked away by a tornado (sound familiar?). After crash landing, he meets Theodora the Good Witch (Mila Kunis). She takes him to Emerald City to meet her sister, Evanora (Rachel Weisz), who has unfortunate news when it comes to the world of issues in OZ.
There's no question that Raimi, the director behind the original Spider-Man trilogy and the horror classic Evil Dead, is an adept visionary to bring OZ back to life. But the big question, even after the trailer, is whether Franco can carry the spectacle. The actor worked with Raimi on Spider-Man as the brooding Harry Osborn — not exactly the ball of charm one might see as The Wizard. In recent years, Franco has established himself as a Jack of All Trades, tackling acting, directing, writing, and even professorial duties at various liberal arts institutions. Whether he's right for the job or not, Franco's ready to do it, and that trait is also a defining aspect of The Wizard's character: he's an impostor for the role of OZ's savior.
But The Wizard requires a smile and a bit of swagger. Frank Morgan, who played the character in the original The Wizard of OZ, was a bit of a goof. Franco has excelled in comedy under the eye of guru Judd Apatow. But in roles that demand a big heart and a good sense of humor — like, say, the host of the Oscars — the actor feels disconnected. If you're going to dress up in a top hat and suit, act mesmerized by the yellow brick road, and save a population of Munchkins from impending doom, you need a certain hop in your step.
Still, Franco may have it in him, and here's hoping. We'll find out when OZ The Great and Powerful arrives in theaters March 8, 2013. For now, check out the trailer:
Follow Matt Patches on Twitter @misterpatches
[Photo Credit: Walt Disney Pictures]
More:
'Oz the Great and Powerful' is Not Your Grandma's Land of Oz — POSTER
Comic-Con 2012: 'OZ, Great and Powerful' Footage Overflows with Imagination — VIDEO
OZ The Great and Powerful' First Look Is Gloriously Illustrated — POSTER
From Our Partners:

'Twilight' Cast Now and Then (PICS) (Moviefone)
How to Be a Bond Director
(Moviefone)