Does the Idea of a 'Starship Troopers' Remake BUG You?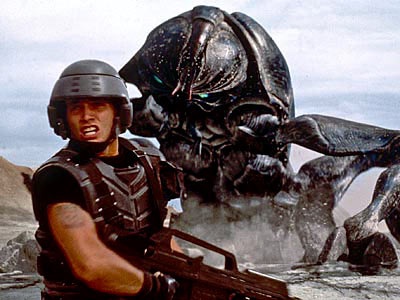 In the 1980s and '90s, we knew a man by the name of Paul Verhoeven. We loved this man. This man was good to us. Among his contributions to society was Starship Troopers, a film that Sony producer Neal Moritz has taken on for a remake…probably to the chagrin of many a Verhoefan.
Verhoeven showered us with films from a vast array of genres, ranging from science fiction to stories about mentally unbalanced women. Actually, those are the only two subject matters he really worked with…but that's fine, he did well with them. Verhoeven was responsible for dramas like Basic Instinct and Showgirls, and a collection of sci-fi classics, including Total Recall. Now, in the vein of the sentiment addressed above, some Total Recall fans have announced their displeasure with an upcoming new version of Total Recall, directed by Len Wiseman. But in all fairness, Wiseman's upcoming film, starring Colin Farrell, is in fact not a remake of the movie, but another (supposedly more faithful) adaption of the Philip K. Dick story that inspired Verhoeven's 1990 flick.
But the Starship Troopers remake is straight from the source material of Verhoeven's 1997 man-versus-bug epic starring Casper Van Dien, Denise Richards and a pre-omnipresent Neil Patrick Harris. Attached to write the script are Ashley Edward Miller and Zack Stentz, who have worked together on the scripts for X-Men: First Class and Thor, and on TV series Andromeda, Terminator: The Sarah Connor Chronicles, and Fringe.
As stated above, it's unlikely that a remake of Verhoeven's Starship Troopers will be undertaken without a great deal of hostility. A lot of people loved that movie, and a lot of those people probably wouldn't trust anybody to remake it. But a remake they shall have…so we'll have to see how well it lives up to the original.
Source: Vulture