Does the Trailer for De Niro/Paul Dano Starrer 'Being Flynn' Tell the Same Old Story?
Writers are, in general, a narcissistic bunch. From your grand, esteemed novelist to your lowly movies blogger, you'd be hard-pressed to find a writer who isn't, to some degree, invigorated by the idea that his own story would make a great story. And though I say this with a tone, it's really not at all a bad thing. This is because everybody—writer or otherwise—has his own story to tell. Everyone's story is different. And when it comes to writers, the stories behind the stories are different as well. So, we can have tons of movies about writing: Finding Forrester, Shakespeare in Love, Adaptation., Barton Fink (to name only four of the dozens). All unique, all interesting in their way. So there is nothing at all a problem with a film about a writer trying to find his story.
Unfortunately, in the case of what Being Flynn seems to be, there doesn't appear to be a great deal of originality in the story or the characters. Judging by the first trailer, which features Robert De Niro as a troubled, wayward author and estranged father to Paul Dano, himself an aspiring writer, Being Flynn is not too much we haven't seen before. Instead of striving to make an original, unique and specific story for this duo of adept performers to capture, it looks as though writer/director Paul Weitz opts for a sweeping, general, overtly sappy and traditional Hollywood tale that "plays it safe." This is even indicated by the retitling of the film from Another Bullsh*t Night in Suck City to Being Flynn, although it's highly understandable why such actions might have been necessary.
Of course, this is all a judgment based on a single, fairly brief trailer. Weitz has delivered us some memorable class in the past, and both of his leading men, as well as some of his other major players (Julianne Moore and Olivia Thirlby) can pack powerful performances.
See for yourself what you think of Being Flynn by watching the first trailer below.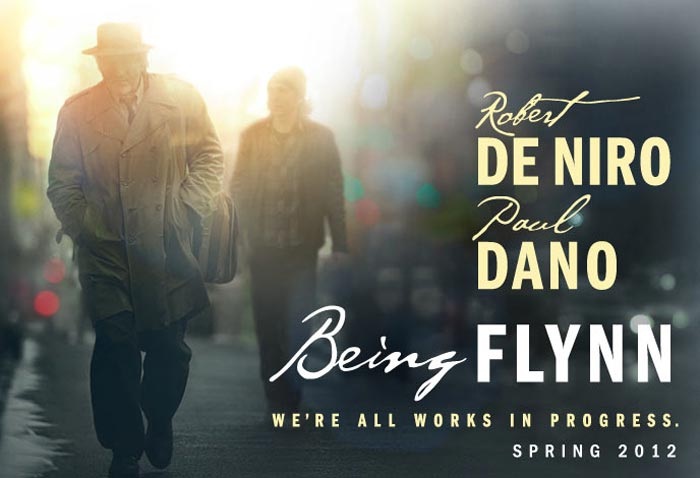 Source: Apple