Watch Joseph Gordon-Levitt and Scarlett Johansson Channel Their Inner Jersey in 'Don Jon' Interview
If you've never been to Jersey, pop culture has given you a pretty colorful idea of the sort of people that reside in the Garden State: walking aerosol cans of unmitigated bravado, singing tall tales of sexual escapades and social dominance through Mid-Atlantic affects. Now, some real life Jersey folk will proclaim this stereotype to be unfair, inaccurate, and offensive. But those who know and love the state best appreciate it for these vividly real eccentricities. Don Jon director, writer, and star Joseph Gordon-Levitt and his screen partner Scarlett Johansson do not hold back in their illustration of a flavorful Jersey. Having grown up in Manhattan, Johansson was hardly a stranger to the identity of the Shore folk, infusing her Don Jon character with the attitude and flair of the people she knew in her younger days. In the above interview for the film, JGL and ScarJo chat about creating the strange, frenetic world we see in the new picture, infusing it with the melodies of the Jersey they know.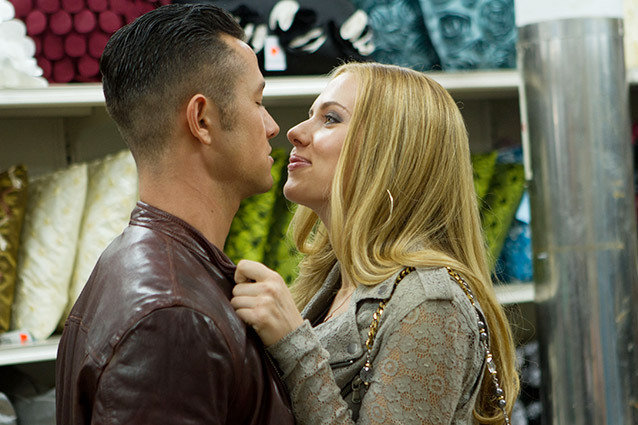 Relativity Media
But Don Jon is more than just a love letter to ol' N.J., and is instead Gordon-Levitt's attempt at subverting the rom-com genre in entirety. The filmmaker discusses his motivations in tackling the tropes with which he has come to take issue, and how they have effected our society in a particularly troubling way. Learn about Gordon-Levitt's vision, Johansson's inspirations, and the personal "addictions" of the two stars in the above video, and catch Don Jon in theaters now.
More:
JGL Talks Accents and Addictions at 'Don Jon' Premiere
'Orange Is the New Black' Scoop Spilled at 'Don Jon' Premiere
JGL Talks Picking Up Women, Batman, and 'Don Jon'
---
From Our Partners:


40 Most Revealing See-Through Red Carpet Looks (Vh1)


15 Stars Share Secrets of their Sex Lives (Celebuzz)