'Dr. Seuss' The Lorax' Writes Box Office Prescription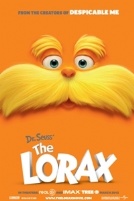 "Dr. Seuss' The Lorax," the beloved author's nod to the environment, absolutely shattered expectations with the biggest opening weekend of the year thus far with $70,720,485! The animated Universal release sprouted on 3,728 screens and 269 in IMAX throughout North America. IMAX was once again a huge factor generating $5.4 million or 8% of the weekend gross. "Lorax" is the highest opening weekend for an IMAX animated title in a non-holiday/non-summer playtime.
Featuring the voices of Danny DeVito, Ed Helms, Zac Efron and Taylor Swift, the PG-rated family film follows in the footsteps of 2000's "Dr. Seuss' How the Grinch Stole Christmas," which opened with $55.1 million, 2003's "Dr. Seuss' "The Cat in the Hat," which had a $38.3 million debut and 2008's "Dr. Seuss' Horton Hears a Who!" and its $45 million opening weekend. The film opened on the birthday of Dr. Seuss, who would have turned 108 this year.
This from Principal Communications Group:
"Dr. Seuss' The Lorax," opened this weekend in North America to fantastic results besting pre-release expectations and achieving several box office records/milestones including:
• Highest non-Sequel Animated/Family film opening (besting THE INCREDIBLES @ $70.5 million)
• Biggest opening weekend of 2012 (besting THE VOW @ $41.2 million)
• Biggest opening for a Universal Animated film (besting DESPICABLE ME @ $56.4 million)
• 4TH biggest Universal opener of all time (besting THE BOURNE ULTIMATUM @693 million)
• Biggest 2012 weekend opening for a Universal film (besting SAFE HOUSE @$40.2 million)
• Biggest opening for a Chris Meledandri film (besting ICE AGE: THE MELTDOWN @ $68 million)
• Biggest opening for a Chris Renaud film (besting DESPICABLE ME @ $56.4 million)
• Biggest opening weekend for a film based on a Dr. Suess book (besting Universal's own GRINCH STOLE CRHISTMAS @ $55.1 million)
Warner Bros.' R-rated comedy "Project X" will have high school seniors and college kids heading to the multiplex in this story of a massive birthday party thrown by a bunch of high school kids trying to build their reputation. The is the latest film from producer Todd Phillips who is of course know for directing "The Hangover" films and other popular comedies. A bigger-than-expected $20.8 million gross will keep these guys in beer money for months!
Relativity Media's "Act of Valor" starring active-duty U.S. Navy SEALs topped last weekend's box office chart with a better-than-expected $24.7 million. The R-rated action film has been leading the mid week box office race and had a solid second weekend gross of $13.7 million and total revenues over $45 million by Sunday night.
Universal's R-rated action hit "Safe House" starring Denzel Washington crossed the $100 million mark this weekend with a mere 34% drop giving it a fourth place finish with $7.2 million.
Rounding out the top five, "Tyler Perry's Good Deeds" from Lionsgate grabbed $7.0 million in its second weekend of release and has now crossed the $25 million mark.
A box office bonanza continues with over-performing films and a YTD total that is 19% ahead of last year at this point. With Disney's "John Carter" and Lionsgate's "Hunger Games" debuting in the coming weeks, the box office outlook continues to look very bright indeed!
Weekend Box Office (Estimates)
'Lorax' is huge with $70,720,485 this weekend!
Movie Weekend Gross Total to Date
1 Dr. Seuss' The Lorax (PG) $70.72M $70.72M
2 Project X (R) $20.8M $20.8M
3 Act of Valor (R) $13.7M $45.2M
4 Safe House (R) $7.2M $108.2M
5 Tyler Perry's Good Deeds (PG13) $7.0M $25.8M