Even Drake's Getting in On the 'Anchorman 2' Cameo Action — PHOTO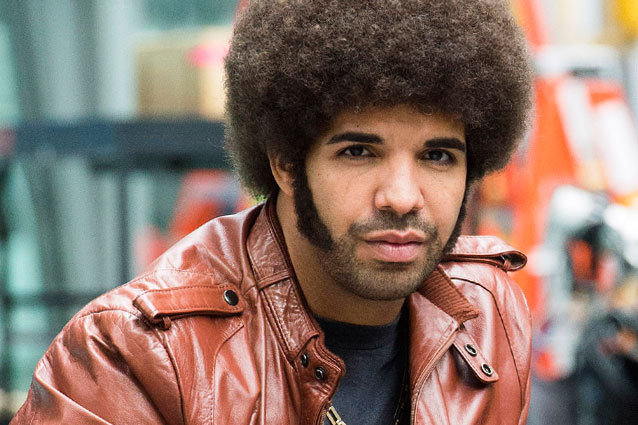 Either he's going to be in the Anchorman sequel, or he's hiding from Amanda Bynes. And while the latter would be hilarious, the former seems far more likely. Toronto's most famous rapping export will soon be urging our neighbors to the north to stay classy now that he's had a taste of the Ron Burgundy life. Indeed, that mess of hair attached to a face is Drake on set of Anchorman: The Legend Continues. The former Degrassi: The Next Generation star and Grammy-winning recording artist was spotted in New York City on Saturday. Sporting a leather "Members Only" jacket, some sweet jeans, and some serious sideburns to match his epic afro — it seems safe to say that the 1970s are alive and well. Between the wash and the cut of those jeans, it's a wonder he wasn't jumped by every extra on set.
But Drake isn't the only rapper making a scene in the Anchorman sequel. Kanye West was spotted earlier in Atlanta causing a ruckus of his very own. West and Drake are only two of the approximately 857 billion celebrities filming scenes for the hotly-anticipated follow-up film. But we're going to go out on a limb and assume that nobody else is going to have quite as much panache as Drizzy over here. Can you dig it, baby?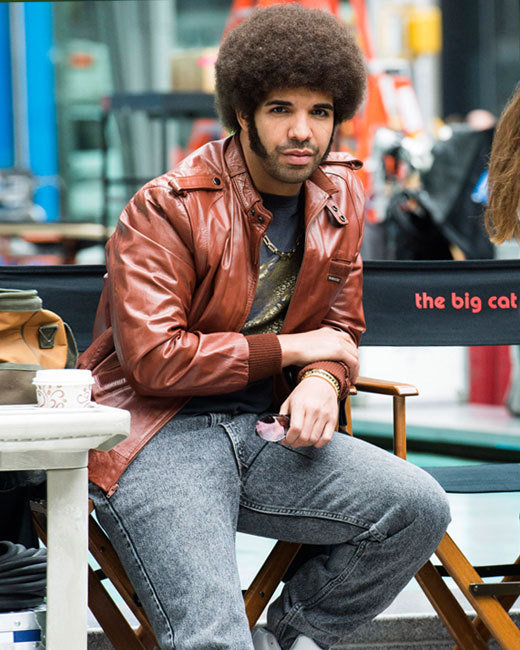 We're not sure who "The Big Cat" is whose seat is to the right of Drake (is it Will Ferrell? Please let Will Ferrell's on-set nickname be Big Cat for my own amusement if nothing else), but it really could be anyone, considering the crazy-insane and seemingly unending list of guest stars and cameos set to take place this go-around. Something tells us many a news team would be hard-pressed to beat Drake's impressive follicle fête. Anchorman: The Legend Continues hits theaters December 20, 2013.
Follow Alicia on Twitter @alicialutes
Follow Hollywood.com on Twitter @hollywood_com
More:
Kanye West is Filming a Cameo in 'Anchorman 2'
Every Celebrity Ever is Making a Cameo in 'Anchorman 2'
Tina Fey, Amy Poehler Beat the Hell Out of Sacha Baron Cohen in 'Anchorman 2'
---
From Our Partners:


What Happened to 33 Child Stars (Celebuzz)


40 Most Revealing See-Through Red Carpet Looks (Vh1)