Drive-ins Go Digital — Will This Revive a Long-Dead Industry?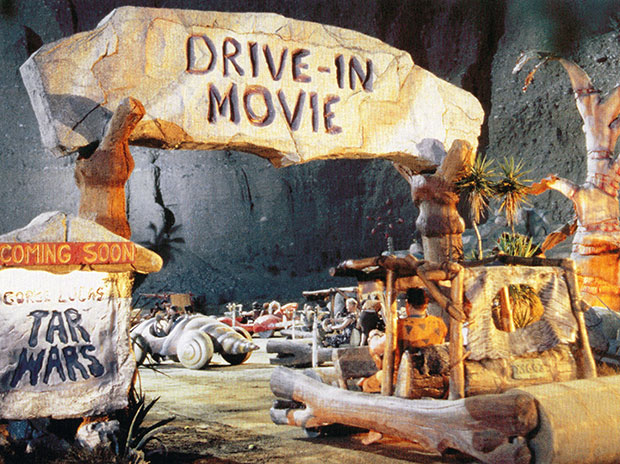 If you've ever seen Grease, watched the ending credits of The Flintstones, or have a grandfather who just loves to ramble on about his romantic trysts of yore, then you're probably familiar with the all-but-extinct phenomenon of the drive-in movie theater. The open air venue for big screen ballads was once a thriving member of the cinematic industry, but now flickers just a few frames away from oblivion. As with all decaying artifacts, there are a handful of those dead set on the drive-in's preservation. Identifying the outdoor theater's utilization of 35mm film projection as a primary deterrent for those who might otherwise enjoy pulling their jalopies up to a widescreen just past Lookout Point, the National Association of Theater Owners is instituting a shift to digital, as reported by MarketWatch.
Because we can all agree that a lack of digital photography is what has been keeping us from regular drive-in visits.
Through its Cinema Buying Group program, NATO is teaming with digital distributor Cinedigm to bring the transition to the remaining American drive-in theaters in operation. According to Drive-ins.com, there are presently 365 theaters in the U.S. (that's one fewer than when we last checked, back in June 2012), quite a ways down from a peak of 4,000 back in the 1950s. As one might infer from this new investment, the organizations on board seem to be confident in a digital transformation as the ultimate saving grace for this rusting pearl from our country's Golden Age.
But while there's value in the preservation of cultural and artistic icons of past eras, NATO's endeavor seems a bit more in the vein of false hope. The update of drive-ins from 35mm to digital format isn't bound to win over any new devotees of the venue, as the community of those averse to drive-ins aren't exactly clamoring over the screen quality as their main detractor.
RELATED: The History of the Drive-In Movie Theater
Indoor theaters — multiplexes, stadium seating, the stabbing odor of butter substitute — maintained the stronghold on the cinematic experience through the decades to follow the height of the drive-in. But even this species is beginning to lose its grasp on the movie going public, falling victim to the more convenient forums like VOD and the Internet, offering new movies in unison with their theatrical releases (and that's just the legal option!). With the availability of impressive 3D formatted to blockbuster adventures, the cinema industry is pulling out all the stops to bring fans to the theaters in pre-home entertainment numbers. But more and more to people seem to be favoring comfort over spectacle. And at this point, the drive-in is all spectacle.
Those who still might opt for the drive-in option do so for the quaint factor. They want to relive (or, for many, live out for the first time) the original drive-in experience. To feel like Greasers, Fonzes, Pleasantvillians. The application of digital photography would actually rob from this experience, as attendants are looking for preservation, not update.
Clearly, there aren't enough of these individuals to bring drive-ins back to the forefront. And those engaged by the digital are likely to seek their entertainment in more comforting forums: theaters, or perhaps their own homes. The sentiment behind NATO's operation might be well-intentioned, and the goal to keep drive-ins alive a noble one. But sadly, there's no screen sharp enough to compete with the other movie-watching venues we have at our disposal. Much less chilly ones.
[Photo Credit: Universal/Everett Collection]
---
You Might Also Like:

Biden? Ford? Surprisingly Hot Young Pics of Politicians

Who Wore This Crazy Hat?

Stars Who Changed Their Look After Love