'Dumb and Dumber 2': Bobby Farrelly Reveals the Plot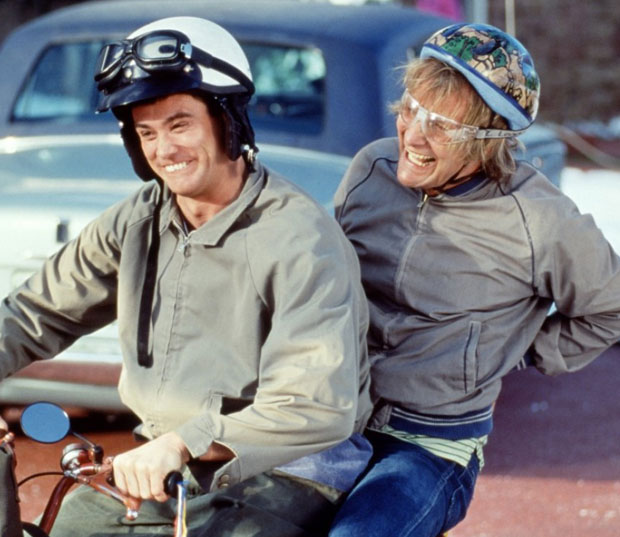 One of my favorite movies of 1994 told the story of an affluent philanthropist who agrees to hand off a large sum of money to a pair of hired criminals in exchange for the return of her kidnapped husband, whose hostage, unbeknownst to her, is overseen by a family friend and prominent Colorado socialite. However, the money is apprehended by two strangers who voyage across country to return the parcel to the woman in question, encountering on their journey an undercover agent who is assigned to the takedown of the kidnapper and his associates. You've probably seen it. It's called Dumb and Dumber.
The point is, nobody ever really thinks about the actual plot when considering the Farrelly Brothers classic that helped to make Jim Carrey a household name. What people think about are the most annoying sound in the world, the soup of the day, Big Gulps, triple stamping a double stamp, and "We landed on the moon!" But without that madcap, high-stakes cross-country adventure to keep the ball rolling and the movie steadily paced, Harry and Lloyd would have just been two idiots sitting alone in their apartment with a non-decapitated parakeet. So the question is: what madcap, high-stakes cross-country adventure will the pair set out on for the sequel?
Bobby Farrelly, co-writer/co-director of the'90s comedy mainstay and of the upcoming sequel, revealed to Digital Spy the story that will involve Harry and Lloyd in their next foray into idiocy: "There is no growth out of either one of them and it's 20 years later … The story revolves around the fact that one of them may have sired a child. They want to go and find the child because he's having a kidney problem and he wants to ask him for one of his kidneys … We've already written the script."
Sounds about right. The clueless, self-involved manchildren that we met back in '94 should return in true form for the developing followup feature, which Farrelly suggests that both Carrey and Jeff Daniels are on board for: "[Carrey and Daniels] are in a point in their career where they had so much fun the first time that they're willing to do it. We will make this movie."
So who has the kid? And who's the mother? Mary Swanson? That little filly Freda Felcher? Clementine Kruczynski? We'll just have to wait and see.
[Photo Credit: New Line Cinema]
More:
Jim Carrey For 'Kick-Ass 2'? Alrighty Then!
Jeff Daniels Sparks 'Dumb and Dumber 2' Rumors: Where Have We Heard That Before?