'Dumb and Dumber' Sequel Will Be Grosser, But Is That a Good Thing or a Bad Thing?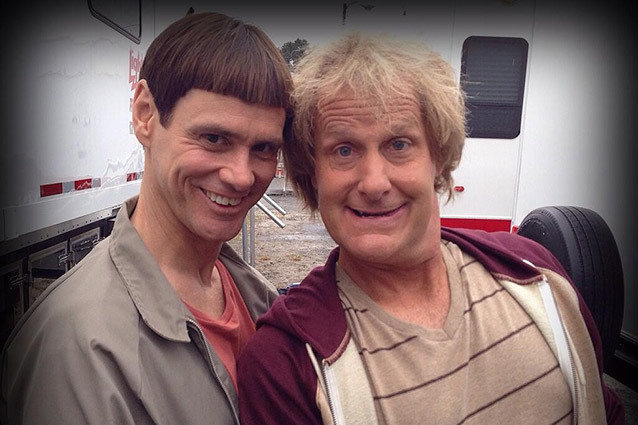 Jeff Daniels/Twitter
When I reminisce on the comic gems in Dumb and Dumber, I think of the sporadic bouts of wordplay ("The Salmon of Capistrano"), the oddball non sequiturs ("Big Gulps, huh?") the clever repartee ("Just when I think you couldn't possibly get any dumber…"). I do not, on the other hand, hearken back to the infamous bathroom scene that found Jeff Daniels' Harry as the victim of a laxative overdose. While stars Jim Carrey and Daniels have more than your average actor's chops in the physical comedy department, the script for the early Farrelly Brothers feature was stellar. The gross-out humor of the aforementioned point midway through the movie, or of Carrey literally tearing the heart out of the chest of a weapon-wielding chef … those are parts of the film that I am happy to forget. But apparently, sequel Dumb and Dumber To has a different perspective on the comedic highlights of its predecessor.
Daniels, whose role in The Newsroom nabbed him an Emmy in the Best Lead Actor in a Drama category at this year's ceremony, reveals to E! that the Farrelly follow-up will involve material that "make the toilet scene seem lame. Pales in comparison and I can't divulge what, but just that they've topped it." We know that the brothers can do gross — we've seen that in every feature they've produced since Dumb and Dumber. But we've also seen nary a feature worth talking about, with the possible exception of There's Something About Mary (which, I maintain, is criminally overrated). So why the need to amp up the gross for Round 2 of Harry and Lloyd's trek across the country?
What we need, instead of more gag-inducing comedy, is a return to the wit of the original. Despite being a comedy about two idiots, Dumb and Dumber had some pretty sharp material. The shtick upheld by Carrey and Daniels throughout the film is like contemporary vaudeville — that's what made the '94 laffer a legend.
In short: we don't need to "top" the bathroom scene. We just need to "top" the wordplay.
More:
How 'Dumb and Dumber' Changed Our Lives
Jim Carrey's Funniest Movie Moments
'Dumber and Dumber To' to Shoot this Fall
Follow @Michael Arbeiter
| Follow @Hollywood_com
---
From Our Partners:


40 Most Revealing See-Through Red Carpet Looks (Vh1)


15 Stars Share Secrets of their Sex Lives (Celebuzz)