Well Suck Me Sideways! 'Dumb and Dumber' Sequel Dropped by Warner Bros.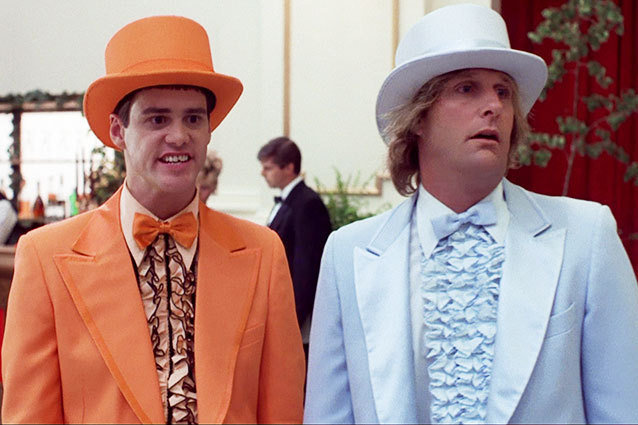 Just when we thought they couldn't possibly be any dumber, Lloyd Christmas and Harry Dunne go and do something like this… and this time, they might not even get a chance to totally redeemed themselves.
Dumb and Dumber To, the long-awaited sequel to Bobby and Pete Farrelly's classic '90s comedy, Dumb and Dumber, was expected to begin shooting by New Line Cinema this spring. But to the dismay of fans  hoping for a return trip to the Rockies, New Line's parent company, Warner Bros., replied, "See ya later!" (after a gleeful "Big Gulps, huh?"), dropping the project and shopping it to other studios.
Unlike New Line's disappointing 2003 prequel, Dumb and Dumberer: When Harry Met Lloyd, the potential sequel secured the original blockheaded buddies, Jim Carrey and Jeff Daniels, to hit the road in search of Harry's illegitimate daughter for a kidney transplant. Regardless of whether they'll be traveling in a doggy van or a moped, Warner Bros. sees limited promise in a follow-up. Despite the low $30 million budget range, the poor performance of the company's similar-costing Steve Carell-Steve Buscemi comedy, The Incredible Burt Wonderstone, recently grossed only $22 million domestically. By chance, the movie also featured Carrey.
As the Farrelly brothers seek a new financier and distributor for the project, our list of unanswered questions expands. Did Harry and Lloyd ever open their pet store, "I Got Worms"? Did Lloyd fall off the jet-way again? The original film cost $17 million to make but grossed more than $247 million at the time. If a new studio gets on board, New Line will still receive a licensing fee and a share of the backend. All that matters to us is that they're telling us there's a chance!
Follow Lauren On Twitter @Lopay92 | Follow Hollywood.Com On Twitter @Hollywood_com
More:
'Dumb and Dumber 2' Plot
Jeff Daniels Sparks 'Dumb and Dumber 2' Rumors
'Kick-Ass 2' Set Photos
---
From Our Partners


Stars Pose Naked for 'Allure' (Celebuzz)


Which Game of Thrones Actor Looks Least Like His Character? (Vulture)