Comic Book Movie Rumor Rundown: From 'Doctor Strange' to 'Justice League'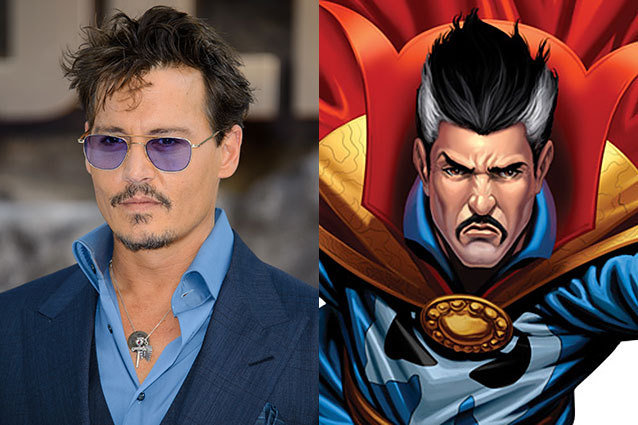 WENN / Marvel
After Disney announced that Michael Douglas is slated to play Hank Pym in their upcoming Ant-Man film, the rumor mill has been busy churning non-stop with stories convering every corner of comic book filmdom.
Johnny Depp Might Play Doctor Strange
First up, Latino Review is reporting that Johnny Depp has met with Marvel about their upcoming project, Doctor Strange, and there's a chance that the actor might play the titular sorcerer. While something as simple and preliminary as a meeting isn't concrete proof that the actor will put on the mage robes for the role, it is exciting news for fans of the character, and Johnny Depp certainly has an aura of eccentricity that's appropriate for Strange. The only issue is that the 50-year-old actor is about two decades too old to play the version of the character mocked up in the original draft of the script, but that's a wrinkle a good rewrite could buff right out. Especially if it means getting Depp seated in his own corner of  the Marvel cinematic universe. Depp's possible casting does provoke the question of how the actor has the time to juggle all of the other Disney projects on his plate, including another Pirates of the Caribbean sequel and an Alice in Wonderland sequel which are scheduled to film in the near future.
Josh Holloway Is Rumored to Be in Batman Vs. Superman
The reports are certainly conflicted about this one. Comic Book Movie is reporting that Lost alum Josh Holloway is being considered for a role in the upcoming Batman Vs. Superman. Conversely, Latino Review is saying that Holloway isn't coming anywhere near Batman Vs. Superman due to scheduling conflicts. Hollaway is currently wrapped up with his ongoing CBS show Intelligence, and it would be hard for the actor to carve out any time for capes. Comic Book Movie is guessing that the actor will play Aquaman, while Indiewire reports that Aquaman will not appear in the film. The rumors are all over the place on this one, so it's probably safer to wait for some concrete news from the studio surfaces before placing any bets.

Gotham TV Series Will Tell Batman's Origin Story
While at first it was reported that the Gotham TV series would focus on James Gordon, it now seems that the upcoming television series will have more in common with Smallville rather than a police procedural. Deadline is now reporting that the series will zero in on a young Bruce Wayne. Fox chariman, Kevin Reilly says, "The show will track Bruce from a child (around 12 years old) until he puts on a cape (in the finale)." Reilly also says that a large portion of Batman's rouges gallery will feature in the series, including Catwoman, the Joker, the Penguin, and the Riddler. "We will see how they get to become who they are as Gotham is teetering on the edge," Reilly said. He goes on to say, "It is an operatic soap that has a slightly larger-than-life quality." For us, a series primarily featuring Commissioner Gordon was originally a huge draw for the drama, and a show that examines the life of an ordinary police officer trying to serve a city teeming with costumed villains and vigilantes was more appealing than the well-tread origins of Batman. Hopefully, Gotham still finds the time to check in on commissioner Gordon from time to time.
Justice League is pushed up to 2016 and will feature Dwayne Johnson
Finally, the Justice League movie might be hitting theaters sooner than you think. Latino Review is reporting that Warner Bros. is planning on shooting  the upcoming Justice League film right after they finish with Batman Vs. Superman, pushing the film up from its originally scheduled 2017 release, in favor for a release sometime in 2016. Warner Bros. Apparently, Batman Vs. Superman will end with a huge cliff-hanger that will be resolved in the Justice League the following year, a move that will probably maximize profits for the second film, but could also be seen as a little to calculated. Also concerning the Justice League film, Latino Review is also reporting that Dwayne Johnson will be in the film. The actor teased that he was meeting with Warner bros. earlier in the year, and this newest rumour could be the fruits of that meeting. There's no telling who Johnson will play, but if anyone had the physique to play a superhero, it's The Rock.