Dwayne Johnson in 'Teddy Bear' Movie: Hollywood's Next Big Trend Is Incredibly Plush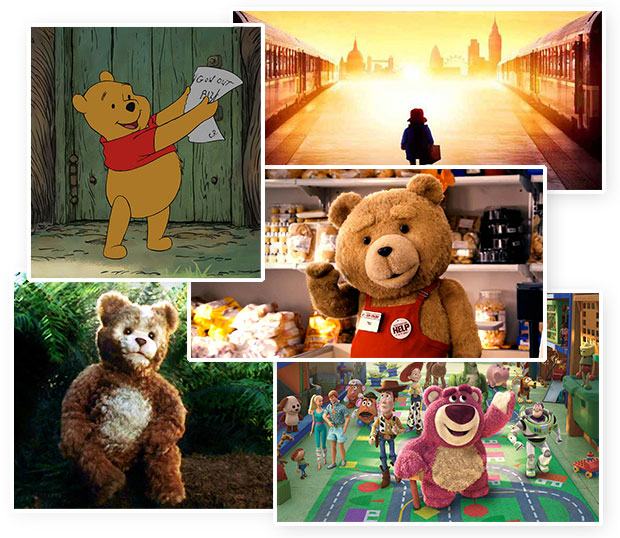 You can argue that regression has been the dominant ideology of Hollywood cinema for the past 30 years: the return to playthings of childhood once set sternly in adulthood. For Baby Boomers George Lucas and Steven Spielberg, that meant revisiting the movie serials of their '50s upbringing, and the result was the Star Wars and Indiana Jones movies in the '70s and '80s. More recently, filmmakers have crafted movies out of comic books, video games, and even toys and board games. (We're looking at you, Battleship!) Since the child is the father of the man, it can be really hard to let go of the things we loved in our youth. And the next big artifact from our collective childhoods to become an unstoppably plush big-screen trend? Teddy bears.
You heard that right. Dwayne Johnson has just been cast to star in a movie tentatively titled Teddy Bear. It's inspired by this drawing from software engineer and concept artist Alex Panagopoulos that shows a pint-size teddy defending a sleeping child from a toothy monster that's sprung up from under her bed. The caption says "Teddy Bears: Protecting Innocent Children from Monsters Under the Bed Since 1902." (1902 was the year the teddy bear was invented.) Just like that, a movie concept is born. But New Line Cinema and FlynnPictureCo, the production companies developing the project, would not have been so eager to pounce on a teddy bear vehicle if it had not been for the wicked pissah $500 million worldwide gross of last summer's Ted, the Seth MacFarlane comedy about a foul-mouthed teddy who's accompanied his child companion well into adulthood (Mark Wahlberg). Ted was practically an allegory for regression.
The success of MacFarlane's film also shows just how elastic teddy bears are in terms of storytelling possibility. While Ted was a hard-R raunchfest, Johnson's Teddy Bear will likely be a kids' fantasy epic. Actually, their narrative potential for audiences beyond the nursery set was already explored with the first great teddy bear of 21st Century cinema: the automaton Teddy from 2001's A.I.: Artificial Intelligence, which presented a robot boy's (Haley Joel Osment) stuffed animal companion as a walking, talking, and thoroughly dour sage. Kind of a fleece Jiminy Cricket to Osment's Pinocchio, an invaluable guide through a future dystopia. In 2010's Toy Story 3, the teddy Lotso (Ned Beatty) smelled like strawberries but proved the villain of the piece. A year later, Walt Disney Animation Studios relaunched one of their most lucrative properties, Winnie the Pooh, for a more gentle big-screen treatment, Piglet's Big Movie. And, looking forward, StudioCanal and Harry Potter's HeyDay Films are developing a live-action version of British kid-lit icon, Paddington Bear for 2014, about a cuddly, though possibly homeless, teddy who spends all his time loitering at London train stations.
Think of this as a kind of security-blanket cinema for not only kids, but kids who've already grown up and really don't want to.
Follow Christian Blauvelt on Twitter@Ctblauvelt
[Photo Credit: Wenn; Universal; Walt Disney Pictures(2); Warner Bros Pictures(2)]
More:
Seth MacFarlane's 'Ted': A 2012 Success Story
Dwayne Johnson and Gina Carano Gear Up for 'Fast Six' — PICS
Dwayne Johnson is One Dirty 'Snitch' — TRAILER

100 Hottest Women of the Century: Do You Agree?