Early Oscar Buzz Pegs 'Les Miserables', Anne Hathaway, 'Zero Dark Thirty' As Contenders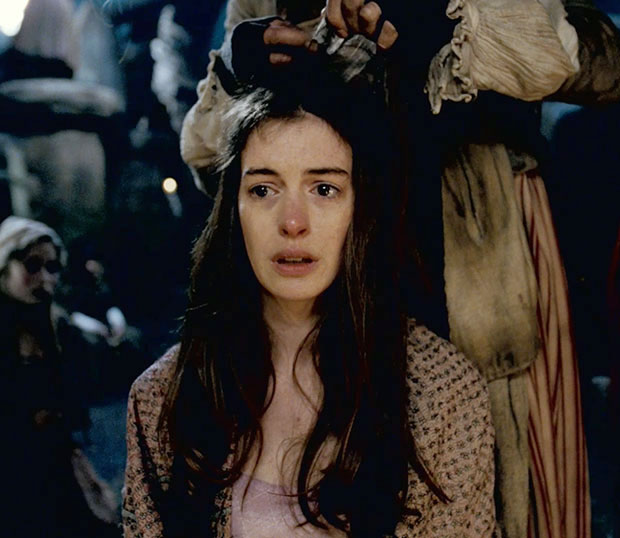 The big screen adaptation of the hit Broadway musical Les Misérables opens on Dec. 25, while Oscar-winning director Kathryn Bigelow's chronicle of the assassination of Osama Bin Laden, Zero Dark Thirty, won't open wide until Jan. 11, 2013. But that doesn't mean the buzz isn't kicking off months in advance — after holiday weekend screenings to press and award voters, both films are now major contenders for coveted Oscar gold.
While full reviews are being held by Universal, a few sneaky pundits have weighed in on the film's awards potential, with the spotlight shining bright on Anne Hathaway's turn as the show's down-on-her-luck single mom Fantine. LA Times is blunt about the prospects: "Anne Hathaway's Fantine, whose single-take, close-up "I Dreamed a Dream" is bound to bring down multiplexes and land her on Oscar ballots." Self-proclaimed Les Mis virgin Mike Ryan of Huffington Post echoes the Hathaway endorsement and adds, "No longer shall I fear the words Les Misérables — which will be spoken many, many times during the Academy Awards."
Hollywood Reporter notes that musical hasn't been a major contender at the Academy Awards since 2002's Chicago, but puts Les Misérables the movie in the top contenders with Argo, Lincoln and Silver Linings Playbook. Oscar-centric site Golden Derby crunches numbers, calling Hathaway, Hugh Jackman (for Best Actor), and Eddie Redmayne (Best Supporting) sure things, Russell Crowe, Sacha Baron Cohen, Helena Bonham Carter as potential additions, and hinting a Best Picture win for the film.
Zero Dark Thirty also debuted for the critical eye this weekend and wowed in equal measures. Bigelow's military drama, written by her Hurt Locker writer Mark Boal, stars Jessica Chastain as the mastermind of this year's infamous assassination plot and Pete Hammond of Deadline declares it as "a remarkable effort" that should play in technical categories and major competitions like Best Picture, Actress, and Director. Time mentions that the dialogue in Zero Dark Thirty is "spread across more than 100 speaking roles," but that Bigelow makes perfect use of the ensemble's screen time. The Help star blew up in 2011 but didn't go home with an Oscar. THR thinks this could be the one: "[Chastain] is essentially asked here to carry a movie for the first time, and she rises to the occasion." Variety reveals that the tale isn't as action-oriented as one may expect, but that the character-focused tale is slick and award-worthy. "The ultra-professional result may be easier to respect than enjoy, but there's no denying its power."
The Oscar campaigning has only just begun, but one fact is concrete: movie-goers have plenty to look forward to before the end of the year.
Follow Matt Patches on Twitter @misterpatches
[Photo Credit: Universal Pictures]
More:
Hathaway and Jackman Redefine Les Misérables with On-Set Singing — VIDEO
Les Misérables: How Much Anne Hathaway Will We Actually See? — TRAILER
Les Misérables Poster Recreates Broadway Original with Vivid Reality
You Might Also Like:

Shocking Pics: Halle Berry's Ex Beaten, Bloodied By Her Fiance

Blimey! They're British?? Can You Guess TV's Most Surprising Accents?